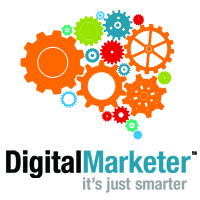 The blog post shares examples of this phenomenon, with several of the must-have tech tools commented on.
Austin, TX (PRWEB) May 02, 2013
Digital Marketer, the industry-leading online marketing firm, has published the most recent blog post about marketing dollars being ushered toward new and exciting technology.
"This year," wrote Rebecca McClay, who contributed the post, "chief marketing officers are on track to spend more money on technology than chief information officers within the next five years because of the massive growth in innovation in marketing products."
"The technologies where marketing officers are likely to increase their spending in upcoming years include data streaming and application data, advanced data analytics, content management systems and customer relationship management solutions, web design and development and marketing attribution/digital breadcrumbs," McClay wrote.
The blog post shares examples of this phenomenon, with several of the must-have tech tools commented on. "Clearly, there's no shortage of marketing technology for chief marketing officers to spend their budgets," wrote McClay.
Information like this is available for instant access on the Digital Marketer blog, where the best of the best online marketing gurus share their ideas on trends and news flowing through the Internet. It's part of Digital Marketer's continuing efforts to keep marketers across the globe up to date on what's affecting their business on every landscape.
Digital Marketer's blog is available to anyone, but becoming a member of Digital Marketer Labs gains access to information from the brightest minds in the industry, as well as a collection of Special Reports on how to combine marketing with major Internet players like Apple, Amazon, Google, and YouTube. Also included in the membership are split test results, website reviews, and access to RAW Trainings that are available anytime from any online device.
Digital Marketer releases informational and educational materials to help businesses and entrepreneurs gain insight and information on the trends, data, and strategies that can take them to the top of their industry. Through their RAW Training courses, strategic plans, blogs, newsletters, site reviews, and Special Reports, Digital Marketer supercharges every single marketing campaign it touches. For more information, visit DigitalMarketer.com.