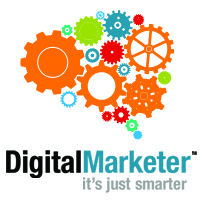 Information like this is available for instant access on the Digital Marketer blog.
Austin, TX (PRWEB) April 10, 2013
The newest blog post from industry leader Digital Marketer has been published, and it focuses on the four main reasons blogger Eric Pickhartz believes webinars are smart for online businesses.
"As online entrepreneurs," wrote Pickhartz, "we all hope for the best when it comes to offering a quality customer experience. People want to know the folks behind the brands, and have access to their brains to reassure they are getting value for their investment. There's few more appropriate ways to accomplish this than holding webinars."
Reputation building and content creation are just two of the specific advantages of webinars, and the blog post gives online business owners motivation to explore their own webinar options.
Information like this is available for instant access on the Digital Marketer blog, where the best of the best online marketing gurus share their ideas on trends and news flowing through the Internet. It's part of Digital Marketer's continuing efforts to keep marketers across the globe up to date on what's affecting their business on every landscape.
Digital Marketer's blog is available to anyone, but becoming a member of Digital Marketer Pro gains access to information-packed monthly digital newsletters from the brightest minds in the industry, as well as a collection of Special Reports on how to combine marketing with major Internet players like Apple, Amazon, Google, and YouTube. A Digital Marketing Labs membership takes things a step further, with split test results, website reviews, and access to RAW Trainings that are available anytime from any online device.
Digital Marketer releases informational and educational materials to help businesses and entrepreneurs gain insight and information on the trends, data, and strategies that can take them to the top of their industry. Through their RAW Training courses, strategic plans, blogs, newsletters, site reviews, and Special Reports, Digital Marketer supercharges every single marketing campaign it touches. For more information, visit DigitalMarketer.com.