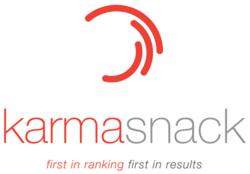 First in Rankings, First in Results
Miami Beach, FL (PRWEB) June 01, 2011
Karma Snack, one of the most innovative digital marketing agencies out in the market today, has partnered up with cutting edge design, Franz Franc Design Group to unveil a new brand look for Karma Snack Marketing.
Karma Snack's strength as a digital agency and marketing consulting firm has proven time and time again that it's one of the premiere agencies providing digital marketing as a solution for businesses.
Since its inception, Karma Snack has worked with many clients in hundreds of industries to help improve their marketing campaigns and provide solutions that work.
This digital agency can prove its value to its clients. With a front page ranking on Google for "Marketing services" and a front page ranking for "Miami SEO" Karma Snack speaks largely through its accomplishments as a search engine marketing agency. Karma Snack has also been featured in Bloomberg Business Week, as the #1 Online Marketing Agency it was also voted as #1 Miami SEO company by TOP SEO, #2 by Search Web in addition to a Top 20 Nielson-net rating.
But Karma Snack Marketing isn't just good at promoting its own business. What's more important are the results this business SEO company delivers for its clients. Karma Snack Marketing has delivered over 1200 profitable campaigns, and over 67,000 front page rankings in Google for its clients. Simply put, that's a lot of traffic to Karma Snack's clients. With plenty of traffic also comes plenty of business. For Karma Marketing clients that equates to about over $60 million in revenue in 2009, and over $100 million in revenue in 2010.
Karma Snack is not just about SEO, viral marketing and driving traffic to your site. It's about more than just driving traffic or ensuring exposure for their clients. It's about delivering the most value out of the client's marketing dollars, marketing dollars that are too hard earned to be wasted.
Because of this, Karma Snack doesn't believe that its service is just to drive traffic. It's in the business of delivering results through high quality exclusive leads, increased online revenue and repeat business. By using marketing techniques impeccably, Karma Snack has been continuously doing this and will continue to do so with an unfailing passion for its customers.
The people responsible for Karma Snack are leaders and innovators in the field of marketing. Backed by senior officers with over 15 years of advertising, design and Fortune 500 C-level experience, Karma Snack Marketing's success is attributed to its talented and skilled group of executives.
The Executive Staff includes Information Technology Director Kevin Vinitsky. Kevin has implemented numerous turnkey solutions for clients maximizing their ROI and lends his talents in IT to Karma Snack with an intellectual curiosity of a sponge. Executive Brand Strategist Karl Hansen has almost 25 years experience handling marketing communications with major brands and joins Karma Snack in implementing ROI driven strategies for clients. North American Sales Director Kevin Knobbe is an innovator that has enhanced profitability of numerous Karma Snack clients and is a valuable asset to Karma Snack. Director of Communications Victoria Taylor has contributed her powerful public relations knowledge and global experience to the Karma Snack team. Her minimum 600% increase in revenue for her clients in her first year with Karma Snack is simply impressive. Finally, CEO Eric Rosado leads the firm with plenty of achievements to back up his position. Achieving more than 15,000 front page rankings on Google and garnering over $3 billion revenue in client results, Rosado adds his priceless knowledge and experience to Karma Snack.
The new partnership with Franz Franc Design Group adds Franz Franc as the Creative Director of Karma Snack. Franz Franc Design Group has been delivering solid creative solutions that impact and increase business for its clients since 1985. Offering full service design and brand management strategies, the group infuses original thinking and big ideas into every single one of its creative concepts. With this partnership, Karma Snack's goal is to succeed in offering more value by combining its unmatched SEO, marketing and proven sales techniques with powerful web design and effective visual communication for its clients that will, with Franz Franc Design Group, ultimately create unbeatable and innovative creative solutions.
###