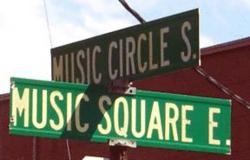 We are looking forward to helping a new generation of unsigned US artists become successful Independent musicians, without the help of the majors
Nashville, TN (PRWEB) May 20, 2011
After careful review, Ditto Music, the UK's largest digital music distribution and label services company announced the launch of their US office on the prestigious Music Row area of Nashville.
Ditto's unique business model has already helped 11 unsigned artists break into the UK Top 40 singles chart, springboarding their careers. The digital music distribution company have already begun expanding this success into the US market, providing the thousands of Independent artists with services and opportunities previously only reserved for major label artists.
Along with helping artists sell music online in hundreds of stores like iTunes, Amazon, Spotify and Rdio, Ditto uniquely help artists set up record labels, become chart eligible in countries around the world, plan release campaigns and raise their profile. This is all done while ensuring the artist retains 100% of rights and royalties.
CEO Lee Parsons said "There are hundreds of vibrant music promotion companies in Nashville along with a diverse array of artists and technology companies. We are looking forward to helping a new generation of unsigned US artists become successful Independent musicians, without the help of the majors."
Ditto Music's current US rosta includes Finch, Suzi Quatro and Jason Downs. Their Music Row office will provide a strong support structure for Ditto's10,000 US clients along with a strong focus on new up and coming talent.
Following a review of Ditto Music's pricing structure, all artists can now benefit from completely free music distribution. Check out dittomusic.com for full details on your free first release.
About Ditto Music:
Established in 2005, Ditto Music is the largest independent distributor of digital, mobile, ringtone and video content, supplying hundreds of stores worldwide. In 2007, Ditto was responsible for the first-ever UK top 40 single by an unsigned artist (Koopa). Since then, Ditto's distribution model has been posing a serious threat to the major labels and has produced 11 UK top 40 singles, all with unsigned artists. Ditto Music's roster includes My Vitriol, Suzi Quatro, Wiley, Tupac Shakur, Finch, Samantha Fox, Kid British and Fairport Convention.
Press and Business Contact
e: Katy Miller - Katy (at) dittomusic (dot) com
###