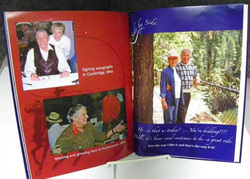 The most disconcerting thing about memory for someone with Alzheimer's disease is that what it knows today may be gone tomorrow as if it never existed
Milwaukee, WI (PRWEB) October 22, 2009
Lifephoto.com, an online digital photo processing and photo sharing service, has launched a consumer blog featuring creative ideas for using existing photos in new, more meaningful ways. How to Make Simple Photo Gifts can be found at http://www.simplephotogifts.com . The blog encourages amateur photographers to get lasting memory value from photos by creating gifts that people can enjoy on a daily basis.
SimplePhotoGifts.com gives readers a fresh perspective on how to get more enjoyment from the events in their lives through the photos they have taken. Lifephoto's blogger, Tish Robinson, recently published a post that typifies this fresh outlook on digital picture printing. She suggests creating a personal memory book or a personalized photo day planner for Alzheimer's patients.
"The most disconcerting thing about memory for someone with Alzheimer's disease is that what it knows today may be gone tomorrow as if it never existed," Robinson tells readers. "As a friend or relative of an Alzheimer's patient, you can spark your loved one's memory with photos and stories of their life. You can build a digitally created memory book from current family photos together with old pictures and clipping from family albums. When someone visits your loved one, they can share the memories together, page by page."
The post offers specific tips for gathering photos, digitizing old pictures and other materials, and organizing sections of the book. She walks readers through the process of planning and creating the book, including how to plan book segments for each stage of the person's life. Suggestions in the post include tips on involving members of both the immediate and extended family to help everyone feel that they can play a part in reviving the individual's memory. Once the book is completed and available for the Alzheimer's patient, she recommends that visitors take time to go through the book with the patient, laughing and reminiscing about the times they have shared.
Robinson suggests that either a photo memory book or a photo day planner would be equally appropriate for the patient. She covers the sizes and costs involved in either a hardcover or softcover photo book, with prices starting as low as $6.95 for a 20-page book that could easily include 40-50 photos plus text. In recommending a custom photo day planner, Robinson offers ideas for personalizing the planner with birth dates, anniversaries, reminders, personal messages and even phone numbers to help the patient stay connected to their family, friends and memories.
To give readers a deeper understanding of how a memory book helps patients hang on to memories, Robinson provides professional references that cite the value of building a memory book for Alzheimer's patients. These include a white paper titled "The Memory Book" by Paul Whitby, a clinical psychologist with the National Health Service in England.
According to Robinson, SimplePhotoGifts.com offers "how-to ideas for using digital photos (that otherwise linger in cyberspace storage) to make thoughtful and inexpensive photo books, photo calendars, photo planners, custom dry erase boards, photo greeting cards and other photo gifts that keep memories alive." Her topics cover basic photography, pet photos, children's book ideas, travel photography, eco friendly photo processes and a wealth of theme ideas for cards, save-the-date announcements, photo notebooks and personalized photo posters. An Alzheimer's photo memory book is just one of the many creative ideas offered on this new blog. Robinson further suggests that a photo book would make a perfect holiday or Christmas gift.
Lifephoto.com's online digital photo processing service is the consumer division of SyNet Media, a software developer with a 10-year history of creating photo publishing software for the photography marketplace. Lifephoto.com offers traditional and eco friendly picture printing, as well as photo calendars and day planners, photo greeting cards, personalized posters and digital photo books in various sizes and styles.
For more information, contact:
Eric Hegwood, President
Lifephoto.com
414-604-1104
###