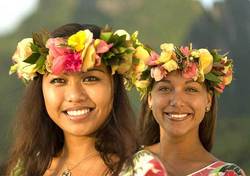 "You'd be surprised at how quickly you can improve as a photographer when professionals give you instant feedback."
Miami, FL (PRWEB) September 14, 2010
The magical islands of the South Pacific that inspired great artists and writers to create with brush and pen will be eyed anew by digital cameras during a two-week Photo Workshop Cruise sailing from Papeete, Tahiti on April 16, 2011.
Conducted by Arthur Bleich, a professional photographer, writer and educator and Adrian Coakley, Illustrations Editor at National Geographic, the workshop–now in its 10th year and undertaking its second book project–will host 20 intermediate-to-advanced photographers who will shoot thousands of travel, nature and documentary images on ten islands. The best of their pictures will be published in a fine arts book that will celebrate the beauty and culture of French Polynesia.
Bleich, a contributing editor at Rangefinder, the leading professional photography magazine in the U.S., invited Coakley to join the instructional team because, he says, "Adrian selects the photos for those beautiful National Geographic books and his eye is impeccable. He will be an enormous asset to our attendees by helping them sharpen their photographic skills. Besides, he's also an accomplished photographer so he knows both ends of the business."
The "base camp" for the project will be the 330-passenger luxury cruise ship Paul Gauguin, named for the French painter who is buried on Hiva 'Oa– one of the islands on the itinerary. Classes and demonstrations will be held during the four days when the ship is at sea. When in port, attendees will shoot during the day and the instructors will comment on their work during evening sessions.
"In the past, this has been the most enjoyable and valuable part of the workshop," says Bleich. "You'd be surprised at how quickly you can improve as a photographer when professionals give you instant feedback."
Attendees enrolled in previous workshop cruises have had their images published in magazines, on web sites and exhibited in shows. "Over the years we've developed some unique techniques to teach photographers to quickly grasp the key elements of 'seeing' which results in great pictures," explains Bleich. The professionally designed coffee table book will showcase each photographer's work and will be available at book stores. Each attendee will receive a copy.
An additional professional photography instructor will join the workshop to give one-on-one mentoring on technical and esthetic subjects and in the months prior to departure, those who want to sharpen their skills can receive special photo exercises tailored to their individual needs.
Cost of the 14-day workshop begins at $6,573 and is less for non-attendee companions. Information is available at: http://www.dpcorner.com/cruise or at 1-800-652-2267.
###