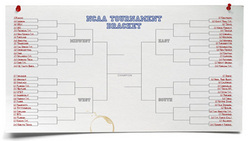 As the tournament progresses the graphic will evolve.
Minneapolis, MN (PRWEB) March 19, 2010
Screenfeed - The Digital Signage Content Store, is providing an updating NCAA Men's Basketball Tournament bracket as content for digital signage networks at no cost. Interest in the collegiate tournament spans beyond traditional sports fans as many non-sports fans participate in prediction pools at work, with family or friends or have affiliations to the competing schools. Adding the tourney bracket to a playlist over the next few weeks offers great looking and timely content to an audience.
The design of the bracket follows a theme of a sports fan who is eagerly following the tournament. As the tournament progresses the graphic will evolve. The design will be updated with advancements and scores as well as additional "hand written" notes that are added like personal commentary to the fan's bracket such as "Wow. I saw that one coming!".
The tournament bracket feed is automatically updated and is available in a variety of formats. The animated Flash version first shows the entire bracket and then zooms in to each bracket region for better viewing. A non-animated Flash version is available and additional delivery methods include a remote JPEG, Media RSS feed and web url.
Due to the amount of information presented in the initial rounds, it is recommended the graphic be displayed full screen or in a large zone in environments where viewers are in closer proximity to the screen. As the tournament reaches the Final Four the graphic will update to focus on the later rounds and display information in a larger view.
A preview of the content is available on the Screenfeed website. To receive the feed, customers just need to ask. Any customer who fills out the request form on Screenfeed's website will be sent information on how to implement the feed.
About Screenfeed
Screenfeed is "The Digital Signage Content Store" – delivering a variety of licensed content for digital signage, including feeds of news-in-pictures, video news from the Associated Press, weather, sports, entertainment, photo trivia, local event information, moderated twitter feeds, HD video scenery, and weather to over 2,000 screens in North America and the UK. All content channels are built or formatted specifically for digital signage and plug-n-play in most digital signage software.
# # #