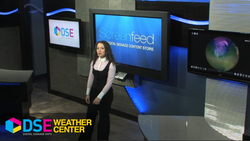 Screenfeed's custom video weather forecasts gives a digital-out-of-home network what is commonplace in broadcast networks - a "weather lady" or "weather man".
Minneapolis, MN (PRWEB) February 21, 2010
In an effort to demonstrate the availability and value of Screenfeed's customizable weather services, Screenfeed - "The Digital Signage Content Store" is providing Digital Signage Expo (DSE) attendees a look at travel conditions on Monday and how the weather will shape up in Vegas the rest of the show.
According to the report, there is a chance of rain Monday and Tuesday and highs reaching only into the mid-sixties. Maybe not the hot desert heat that may be associated with Las Vegas but certainly a welcome break from the cold for those coming from the North and Northeast.
The weather forecast, which can be seen on the Screenfeed website is meant to be more than a travel planning tool for attendees but an example of the unique content service Screenfeed provides to digital signage networks. The offering essentially gives a digital-out-of-home network what is commonplace in television networks - a "weather lady" or "weather man". Signage networks can receive a custom forecast built specifically for their network including a specified geographical location, verbally recognizing the network or even references to sponsors and branding graphics. Advertising sponsors will receive both visual representation on the forecast but also verbally from the meteorologist.
"Our customized video weather service is truly unique in the industry. First, because we offer it in HD up to 1080p; and second because we provide content that actually speaks directly to the viewers on a daily basis," says Screenfeed CEO Jeremy Gavin. "Imagine having a consistent voice on your network, greeting viewers each day mentioning you or your sponsor by name and providing content that the viewers actually do want to watch - its a home run for many networks."
A forecast can be customized by the coverage area, such as displaying a map of locations and referencing the customer's specific locations by name. It can be customized verbally through introductions and phrasing such as "Hello and welcome to the [network name] forecast brought to you by [sponsor]". In addition, product categories may be mentioned such as shovels or cocoa during snowfall. To serve multi-cultural networks, both English and Spanish speaking languages are available. Lastly, it can be customized through on-screen visuals and branding.
As an alternative to completely custom weather forecasts, Screenfeed offers standard regional and national forecasts with the addition of onscreen graphics for branding and sponsorship. These 'standard' shows do not offer a customized coverage area or verbal messaging, but through Screenfeed's 'branding engine' they can deliver the forecasts with sponsorship banners or graphical bugs for branding your network. Monthly pricing for standard feeds run between $8 - $15 per player depending on the size of the network.
View the forecast on the Custom Video Forecast for Digital Signage page of the Screenfeed website.
About Screenfeed
Screenfeed is "The Digital Signage Content Store" – delivering content for digital signage that is both highly attractive and is constantly refreshed to increase engagement with viewers. Screenfeed's digital signage content includes feeds of trivia, moderated twitter, local event info, news, video shorts, and weather to nearly 2,000 screens in North America and the UK. Content can be licensed through their online content store, through software partners or integration partners. Screenfeed will be presenting its content services at the Digital Signage Expo in Las Vegas (booth C2) February 23-25, 2010.
# # #