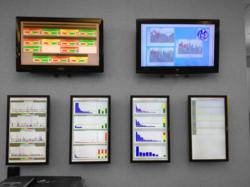 Navori, where efficient design meets exceptional performance.
Ohio, USA (PRWEB) June 11, 2013
Allied Machine & Engineering Corp. is a leading manufacturer of Industrial equipment. The team's designs and engineer equipment for standard and custom use cases. They operate to large facilities in the United States.
Challenges:
To make critical information more accessible
Shop floor employees need to get things done in a timely manner. Certain information is critical to their tasks and was not easily accessed "It is difficult for Supervisors and shop floor associates to access information that previously would only be available through the intranet."
Notify staff of current and future company procedures, goals and achievements.
Create immediate awareness in the event of natural disasters or urgent company situations such as Tornado warnings, extreme weather warnings, and other emergencies. "Kiosks were used to provide 24 hour live video coverage as hurricane Sandy became a greater risk."
Display large amounts of data / information on multiple displays while optimizing time and investment
Share the work of the digital signage across multiple company departments (customer service, plant floor, HR)
Have a solution that could be easily monitored thus ensuring critical information is always being displayed.
Solution:
Display task priorities shipment information to keep shop floor associates on track using Charts, graphs, and tables.
Kiosks are used to display announcements that recognize important occasions such as employee tenure anniversaries, information on company events like sponsorship of local charities and upcoming company plans.
Use Navori QL for emergency alerts and notification. This keeps everyone informed and ensures the safety of all employees.
Use Navori QL's dynamic data capabilities to display production data and task lists.
Use Navori QL to rotate dynamic content so that customer service representatives and application engineers can see relevant information to assist customers.
Use Navori's Multiscreen / Video Wall capabilities to power six screens with different information off of one Player. "With the Navori QL software, it made spanning our data across a multiple screen platform very easy and efficient. Being able to just pick the total screen resolution of all six screens and dropping the web pages and media into my template and go made this the perfect solution for this kind of project."
Navori QL's multi-tenant / multi-user ability allows staff in different departments to work concurrently to easily manage content and schedule Playlists. "The ability to easily manage screens in multiple locations with an unlimited amount of users who can have defined access permissions has made Navori QL the most effective platform for us."
To find out more about the Navori digital signage software platform, please visit the Navori web site at http://www.navori.com or contact our head office directly:
Navori offers reliable and cost-effective software solutions that can be used in many types of installations, from stand-alone to large distributed digital signage networks.
NAVORI SA
World Trade Center
Avenue Gratta Paille 2
CH-1000 Lausanne
Switzerland
Phone: +41 21 641 19 60
Fax: +41 21 641 19 61
NAVORI Inc (North-America)
1134 St. Catherine St. West, Suite 410
Montreal, QC, Canada H3B 1H4
Phone: 1 800 720-2751
Press Contact B.moeri(at)navori(dot)com