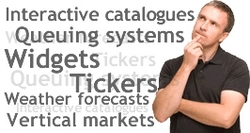 Digital signage, kiosk, audio broadcasting, Bluetooth marketing, management and resale of advertising space, all included in a just one software provided 100% as a service
Santa Clara, CA (PRWEB) April 7, 2010
Web Signage is a digital signage software developed by Edisonweb, an italian software house with broad expertise in the creation of software for digital marketing provided through the web. It consists of two parts:
1. A web server application provided with a "software as a service" model
2. A player software to be installed on a PC connected to the Internet, for the visualization of multimedia content on digital signage displays.
The software Web Signage Server manages the administration and publication of multimedia content through a profiled multiuser and multirole access. This is even possible on different digital signage networks simultaneously.
The platform can also monitor and provide a detailed reporting of the advertising runs; this data is also accessible though a dedicated iPhone app.
The Player manages the reproduction of video, images and texts, through a rich collection of easy-to-use and fully customizable templates that can be activated on different parts of the screen, like RSS feed compatible tickers and widgets connected to external data sources.
Web Signage Player also supports many advanced features for the development of interactive kiosks and Bluetooth marketing; queue management system; VOIP communication systems; the interface to serial devices and building automation protocol.
Accordingly to the company's philosophy, setting up a digital signage network has to be easy and fast, therefore the platform includes a multitude of digital signage applications ready to use, conceived for different environments and markets such as travel agencies, real estate agency, car dealerships, public services, large-scale retail trade, etc.
Web Signage's development team is constantly working on new applications that will be always provided for free with the platform.
The Web Signage licence of use is provided with a software as a service model. This means that there is no need to invest precious resources in acquiring, configuring and managing dedicate servers, nor for buying hosting services and bandwidth. All those costs are included in the service, as well as technical support, maintenance and all the unlimited updates for any component of the suite.
There is no initial cost for the activation of the service and no added cost for all the software modules included in the platform, now and in the future.
Finally, there is no cost and no limit for the number of users that can have access to the management console and for the number of networks that can be managed from a single platform.
The cost of the service consists on a monthly fee based on the number of players.
The players can be activated and deactivated at any time, without penalties or minimum quantities: you have the maximum flexibility and freedom of use.
Web Signage is getting the attention of communication professionals, advertising agents, media center, that can finally use a digital signage platform that is simple to use, powerful, affordable and ready-to-use, for the management of multimedia content, programme schedule and the planning of advertising campaigns in a short timeframe.
Furthermore there are many system integrators, developers & ICT consulting companies that are using Web Signage as the enabling platform for the development of numerous value added services in the digital marketing field.
Edisonweb is constantly looking worldwide for distributors and resellers and is already negotiating with primary TELCOs, interested in the erogation of software as a service solution on their data center.
A letter of intent has been signed with Telecom Italia to market our solution in Italy on a Software as a Service model.
The platform is already available in English and will soon be available in German.
A free and complete access to test all the functionalities of our platform can be requested anytime along with a complete set of online documentation, guides, case stories, videos and in depth tutorials.
A partnership program tailored to the different competence profiles in the ICT world is available to companies interested in the distribution of Web Signage platform.
Following the enthusiastic market response in Italy, Web Signage has been localized in English and released for all markets worldwide. The German localization will be soon available.
For further information and access to the documentation and demo resources, please visit http://www.websignage.eu. Media contact: Vittorio Polizzi.
###