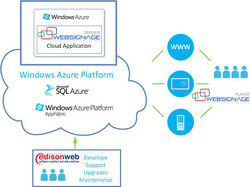 Web Signage is the first digital signage software platform in the world available for Microsoft's Cloud
Santa Clara, CA (PRWEB) June 14, 2010
Edisonweb, the Italian software house that develops the Web Signage platform for digital signage, becomes officially a "Front Runner" and announces the release and immediate availability of its solution for Windows Azure.
Web Signage is the first digital signage software platform in the world available for Microsoft's Cloud.
The solution consists of web based management application delivered as a service and a player software managing the multimedia content playback on digital signage displays. Web Signage Player has successfully passed compatibility tests conducted by Microsoft for the 32 and 64-bit versions of Windows 7.
"We are particularly proud of having achieved first, in the software for digital signage arena, this important compatibility goal," said Riccardo D'Angelo, CEO of Edisonweb "that will allow us to further shorten the release and development times and increase both scalability and performance, thanks to the great flexibility offered by the Windows Azure platform.
The compatibility with Microsoft's cloud services of the Windows Azure platform, strengthens the offer towards the international markets: both software and infrastructure will be available as a service supplied through the Microsoft data centers spread throughout the world. Web Signage is always supplied by the nearest Windows Azure datacenter to ensure the highest performances.
Also, thanks to the evolution from SaaS to IaaS, a set of more flexible distribution and resale agreement, including OEM and co-brand formulas will be available to partners.
Edisonweb is a software house specialized in developing innovative web based solutions. For over fifteen years develops applications in the e-Government, healthcare, info-mobility, tourism and digital marketing fields, creating high performance and simple to use solutions. Edisonweb is a Microsoft Gold Partner and has achieved the ISV/Software Solutions competence, which recognizes commitment, expertise and superiority using Microsoft products and services. All Edisonweb processes, to ensure the best software quality and customer service, are managed using an ISO 9001:2000 certified quality management system.
###