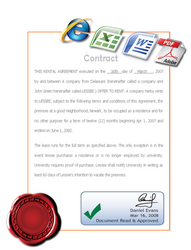 CoSign not only provides strong digital signatures as required by MDA, but also includes the application of hand-written, graphical signatures and out-of-the-box integration with PDF and Microsoft Office, which were all requirements for MDA
San Francisco, CA (PRWEB) June 11, 2008
ARX (Algorithmic Research), a leading provider of digital signatures (standard electronic signatures) solutions, has successfully implemented a CoSign® digital signature solution at the Muscular Dystrophy Association (MDA), the world's largest non-governmental sponsor of research, seeking the causes of and effective treatments for muscular dystrophy and related diseases.
Like many organizations, MDA wanted to reduce their paper-based workflow comprised of memos, purchase orders, and executive-level authorizations. Management within the organization decided that as a way to accelerate the time consuming business approval processes, the association's dependence on paper needed to be reduced. In order to eliminate the need to reintroduce paper into the workflow for signing purposes, MDA required a digital signature solution. As it is a standards-based solution that is deployable out-of-the-box, MDA decided to implement the CoSign digital signature solution.
"We were in search of a digital signature solution that would allow us to expedite inner-office communications and workflows, without demanding an expensive or time-consuming set up," said David Wagar, IT Project Manager, MDA. "CoSign allows us to integrate digital signatures with whatever manual or automated workflow and document management system that we implement in the future."
CoSign's implementation will allow MDA to reduce their work processes from days to minutes, as office documentation will no longer require physical routing for signing purposes. In addition, the reduction in paper alleviates the resources MDA needs to concentrate on document archival.
"CoSign not only provides strong digital signatures as required by MDA, but also includes the application of hand-written, graphical signatures and out-of-the-box integration with PDF and Microsoft Office, which were all requirements for MDA," said Rodd Schlerf, Life Sciences and Healthcare Market Manager, ARX.
About MDA
The Muscular Dystrophy Association (MDA) is a national voluntary health agency dedicated to conquering more than 40 diseases that affect a million Americans of all ages.
For more information please visit http://www.mda.org.
About CoSign®:
The CoSign approach means digital signature standards and efficiencies across your operations. Signing and sealing documents with CoSign immediately expedites business processes, reduces costs, increases security and enables organizations to comply with diverse regional and industry regulations. CoSign works with all major applications and document formats including: Microsoft® Word, Excel®, Outlook®, Adobe® PDF, TIFF, AutoCAD®, InfoPath®, Lotus Forms, and many more). CoSign signatures are being used by hundreds of thousands of users in Enterprise, B2B and B2C processes, to learn why please see our white papers and product details at arx.com/products/cosign-digital-signatures.php.
About ARX (Algorithmic Research):
ARX has over 20 years of experience assisting banking, financial services, life sciences, healthcare, governmental organizations and commercial sectors to secure and streamline their business processes and transactions.
For more information, please visit arx.com.
CoSign® is a registered trademark of Algorithmic Research, Ltd. All other trade names and trademarks are the property of their respective holders.
###