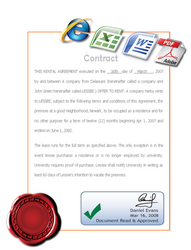 We're pleased to see our digital signature solution integrated within this SaaS as the engine for signing, and the more superior product that results
San Francisco, CA (PRWEB) August 25, 2010
A SaaS (Software as a Service) provided by Secured Signing will now enable PKI-based (Public Key Infrastructure) secured signing transactions using ARX's CoSign digital signatures. With CoSign digital signatures integrated within the SaaS offering, Secured Signing customers gain numerous benefits including the ability to sign and verify signatures in a non-proprietary format (meaning their signature may be used and verified in all major file formats), as well as faster sales cycles, expedited business processes and saved organizational costs.
With CoSign powering their SaaS solution, Secured Signing offers a variety of signing services including the ability for registered users to upload a document, sign it digitally and route it online to other parties. Also offered is the capability to generate signing workflows that includes sending invitations to all parties involved in the signing process. Moreover, this mailto:digital signature SaaS requires no software installation.
Secured Signing offers a free trial of the digital signature SaaS.
Today's business processes are largely electronic (including those in organizations that haven't invested in business automation suites like Microsoft® SharePoint®). Documents, forms, and reports begin their lifecycle in an electronic format such as a Word or PDF document, and remain electronic until the signature approval stage. With CoSign digital signatures, business processes can remain fully electronic, thereby saving valuable time and reducing the hassle and cost associated with paper-based processes.
"We're pleased to see our digital signature solution integrated within this SaaS as the engine for signing, and the more superior product that results," said Gadi Aharoni, CEO, ARX. "It's exciting that more users will now experience, first-hand, best-in-its-class digital signature capabilities in a SaaS form."
With CoSign digital signatures being used for signing, users receive an individual signing key which is protected by the CoSign device, giving each user exclusive access to his/her signing key. This is not the case with Adobe's digital signature service, for example, where users are not given exclusive access to their keys.
"We are proud to offer a legally binding, and secure digital signature service online to companies of all sizes and their business associates," said Mike Eyal, CEO, Secured Signing. "With CoSign, we're able to provide a type of flexibility that has a truly powerful effect on business processes."
About Secured Signing
Secured Signing provides a comprehensive and secure web-based digital signature service that delivers a full range of signing capabilities combining advanced PKI technology, and an easy to use, simple to deploy, compliant solution. Secured Signing is the only user-based trusted digital signature service that enables businesses and individuals to sign and seal documents, and verify them anywhere, anytime, on their desktop.
For more information please visit http://www.securedsigning.com.
About CoSign Digital Signatures
ARX (Algorithmic Research) is a global provider of cost-efficient digital signature solutions for industries such as life sciences, healthcare, government, engineering, and energy. ARX's CoSign digital signature solution automates approvals affordably in a compliant manner, allowing organizations to go paperless, expedite business processes and save costs. CoSign is the only digital signature solution that is seamlessly integrated with Microsoft SharePoint and other popular DM/ECM solutions. CoSign signatures are globally accepted by external partners without the need for proprietary-validation software. CoSign is also centrally managed through the organization's user directory for reliable control of signature privileges, and ease of use and administration. Learn more about the CoSign digital signature solution.
CoSign is a registered trademark of Algorithmic Research, Ltd. All other trade names and trademarks are the property of their respective holders.
###