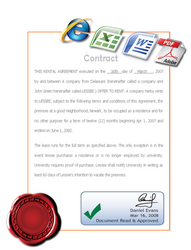 Its uncomplicated deployment and straightforward integration into our legacy systems made our decision to use CoSign very simple.
San Francisco, CA (PRWEB) June 26, 2008
ARX (Algorithmic Research), a leading provider of digital signature (standard electronic signature) solutions, and ITelion Consulting 21, ARX's representative in Spain, have implemented a CoSign® digital signature solution at Edicom, an international leader in electronic data interchange services.
As the developer of a web-based platform that enables organizations to exchange electronic invoices and other documents in compliance with European Union (EU) standards, Edicom was in search of a digital signature solution that would meet its centralized business approach and help their customers maintain compliance with EU requirements mandating the use of a Secured Signature Creation Device (SSCD) system. In addition, Edicom required a digital signature that assisted in its strategy of becoming one of the leading qualified Certification Authorities (CA) in Europe. Based on CoSign's centralized management and key storage, and its extensive track record of successful implementations, Edicom decided that CoSign provided the exact capabilities they needed for digital signatures in their B2B processes.
"CoSign's intuitive use and its flexibility to meet our specific requirements provided us with the exact answer we required for our business need," said Jose Vilata Tamarit, Founder/CTO, Edicom. "Its uncomplicated deployment and straightforward integration into our legacy systems made our decision to use CoSign very simple."
Since their deployment of CoSign, Edicom provides more secure and sophisticated value added services and complies with the strictest legal regulations in all of its markets, advantages directly related to the capacity that CoSign has provided.
"Edicom's implementation of the CoSign digital signature solution emphasizes CoSign's ability to unobtrusively integrate and enhance a company's pre-existing product," said Raanan Dahari, EMEA Sales Director, ARX.
About Edicom
Edicom is a company dedicated to the development and implantation of high performance business-to-business (B2B) transaction systems. Specialists in consulting and EDI software development (applications and processes) and data integration (XML, EDIFACT, X12, XBRL, etc.), with their own Value Added Network SEDEB2B for secure information transfer, as well as solutions in the field of Continuous Replenishment (CRP) and Traceability. Edicom dedicates an important part of its resources to research and development of new communications solutions and how to implement the latest technological breakthroughs.
For more information, please visit http://www.edicomgroup.com/en/index.htm.
About CoSign®:
The CoSign approach means digital signature standards and efficiencies across your operations. Signing and sealing documents with CoSign immediately expedites business processes, reduces costs, increases security and enables organizations to comply with diverse regional and industry regulations. CoSign works with all major applications and document formats including: Microsoft® Word, Excel®, Outlook®, Adobe® PDF, TIFF, AutoCAD®, InfoPath®, Lotus Forms, and many more). CoSign signatures are being used by hundreds of thousands of users in Enterprise, B2B and B2C processes, to learn why please see our white papers and product details at arx.com/products/cosign-digital-signatures.php.
About ARX (Algorithmic Research):
ARX has over 20 years of experience assisting banking, financial services, life sciences, healthcare, governmental organizations and commercial sectors to secure and streamline their business processes and transactions.
For more information, please visit arx.com.
CoSign® is a registered trademark of Algorithmic Research, Ltd. All other trade names and trademarks are the property of their respective holders.
###