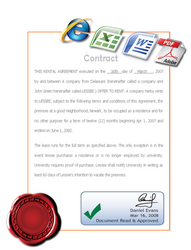 The Israeli banking committee's decision to utilize CoSign digital signatures to satisfy industry-wide security standards is a key example of the growing adoption of digital signatures in the marketplace
San Francisco, California (PRWEB) July 2, 2008
ARX (Algorithmic Research), a leading provider of digital signatures (standard electronic signatures) and information assurance solutions, has been chosen by an Israeli banking committee to implement their CoSign® digital signature solution as part of a nationally mandated security procedure for the clearing process of all digital check imagery.
Israeli bank regulation 357, which defines a best practice for banking IT processes equivalent to the US Check 21 Act, requires financial institutions to utilize a secure channel for distribution of checks. A key component of satisfying this regulation was the implementation of an industry-wide digital signature solution that ensured the integrity of the clearing process. The decision of which digital signature solution to implement was made by a committee consisting of industry leaders including Citibank, Bank Hapoalim, and Bank Leumi.
"The Israeli banking committee's decision to utilize CoSign digital signatures to satisfy industry-wide security standards is a key example of the growing adoption of digital signatures in the marketplace," said Raanan Dahari, Director of Sales-EMEA, ARX.
After extensive review of the digital signature products available, CoSign's track record of successful deployments, its ability to integrate into an existing system using its SAPI (Signature API) tool, and its design allowing extensive future digital signature use, led to it being chosen as the industry-wide solution. The implementation of CoSign throughout the Israeli banking industry plays an important role in expediting check-clearing processes from days to hours, as banks can now digitally route thousands of checks a day, utilizing a digital signature to seal deliveries. In addition to expediting financial processes, CoSign has alleviated both the need to physically route processed check documentation, and the costs involved with securing the process.
About CoSign®:
The CoSign approach means digital signature standards and efficiencies across your operations. Signing and sealing documents with CoSign immediately expedites business processes, reduces costs, increases security and enables organizations to comply with diverse regional and industry regulations. CoSign works with all major applications and document formats including: Microsoft® Word, Excel®, Outlook®, Adobe® PDF, TIFF, AutoCAD®, InfoPath®, Lotus Forms, and many more). CoSign signatures are being used by hundreds of thousands of users in Enterprise, B2B and B2C processes, to learn why please see our white papers and product details at arx.com/products/cosign-digital-signatures.php.
About ARX (Algorithmic Research):
ARX has over 20 years of experience assisting banking, financial services, life sciences, healthcare, governmental organizations and commercial sectors to secure and streamline their business processes and transactions.
For more information, please visit arx.com.
CoSign® is a registered trademark of Algorithmic Research, Ltd. All other trade names and trademarks are the property of their respective holders.
###