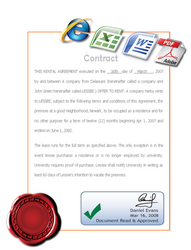 When people sign digitally and securely, they not only get speed and convenience, they scale their business processes rapidly and economically with the proper controls.
San Francisco (PRWEB) July 7, 2008
ARX, the leading provider of digital signature solutions, and ChosenSecurity, Inc., the leading provider of on-demand digital identity management services, today announced a global partnership to combine their respective standard digital-signature and digital-identity offerings.
Under the agreement, users of ARX's CoSign® digital signature (standard electronic signature) solution will have the option to employ ChosenSecurity's PKI services for digital identity management. This combination provides businesses with a secure and cost effective method to sign electronic transactions over the Internet with standard digital signatures. The primary enablers include CoSign PSF™ (portable signature format), which allows users to retain and verify the proof of identity, intent, and transaction integrity over the life of a record without any proprietary software, and ChosenSecurity's web-trusted ID certificates.
"This advancement enables our customers to incorporate ChosenSecurity's digital identity services, within the affordable, secure, and easy-to-use digital-signatures that CoSign is known for," explained John Marchioni, VP Business Development, Americas, ARX. "When people sign digitally and securely, they not only get speed and convenience, they scale their business processes rapidly and economically with the proper controls."
"With CoSign, ChosenSecurity services will be seamlessly connected with several productivity applications that most companies have already invested in for their internal, B2B and B2C electronic processes," said Dean Coclin, VP Business Development, ChosenSecurity. "An added benefit for our customers is CoSign's elimination of the need for client-side PKI tokens, smartcards, and software. As a result, our customers can digitally sign securely, and without having to carry authentication tokens, while roaming."
About CoSign®:
The CoSign approach means digital signature standards and efficiencies across your operations. Signing and sealing documents with CoSign immediately expedites business processes, reduces costs, increases security and enables organizations to comply with diverse regional and industry regulations. CoSign works with all major applications and document formats including: Microsoft® Word, Excel®, Outlook®, Adobe® PDF, TIFF, AutoCAD®, InfoPath®, Lotus Forms, and many more). CoSign signatures are being used by hundreds of thousands of users in Enterprise, B2B and B2C processes, to learn why please see our white papers and product details at arx.com/products/cosign-digital-signatures.php.
About ARX (Algorithmic Research):
ARX has over 20 years of experience assisting life sciences, healthcare, government, engineering and manufacturing, banking, financial services, and commercial sectors to secure and streamline their business processes and transactions. ARX offers a range of highly scalable products designed to simplify, secure, and accelerate electronic business.
For more information, please visit arx.com.
About ChosenSecurity, Inc.
ChosenSecurity provides digital trust between employees, clients and suppliers doing business over the Internet through On-Demand digital identity management services.
On-Demand digital identity management from ChosenSecurity enables strong authentication, secure e-mail, digital signatures and encryption of data at rest and in motion to control access to digital assets, prevent data theft through stolen or lost equipment and comply with global regulations regarding privacy and digital signatures.
ChosenSecurity is the first and only firm to provide digital identity management through a Software as a Service (SaaS) delivery model, resulting in breakthrough economics, flexibility and implementation speed for enterprises. Unlike other options, ChosenSecurity solutions can be implemented in up to 70% less time than traditional in-house PKI implementations and 50% less than traditional managed services, which means customers are protected within days, not months. For additional information, please visit http://www.chosensecurity.com.
CoSign is a registered trademark and CoSign PSF is a trademark of Algorithmic Research, Ltd. All other trade names and trademarks are the property of their respective holders.
###