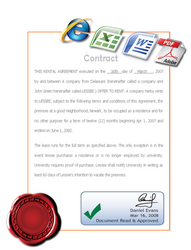 This advancement enables our customers to create a web-trusted root for a variety of enterprise applications supported by the affordable, secure, and easy-to-use digital-signatures that CoSign is known for
San Francisco, CA (PRWEB) August 12, 2008
CoSign® digital signatures from ARX, a leading provider of digital signature solutions, and trusted digital certificates from GlobalSign, Inc., a well-established certification authority, are now being offered together.
CoSign® digital signature (standard electronic signature) users will have the option to deploy CoSign under GlobalSign's WebTrust compliant root, via this new agreement. This combination provides businesses with a secure and cost-effective method to electronically sign documents over the Internet with secured digital signatures. The CoSign PSF ™ (Portable Signature Format) is an enabler of this partnership - CoSign produces a CoSign PSF for every signature it captures. The portability of the CoSign PSF is a key feature, allowing partners, customers, and prospects to retain and verify the proof of identity, intent, and transaction integrity over the life of a record without any proprietary software.
GlobalSign's enterprise Trusted Root™ service works as an additional enabler by validating the customer's CoSign-system root and passing trust to the user's certificate, providing a convenient way for CoSign certificates and signatures to be seamlessly accepted in all popular e-commerce applications.
"With the combination of CoSign and Trusted Root services, enterprises will seamlessly deploy a digital signature capability that serves a diversity of productivity applications that most companies have already invested in for their internal, geographically-distributed, B2B and B2C business processes," said Johan Sys, CEO, GlobalSign Inc, USA. "An added benefit for our customers is that CoSign eliminates the need for client-side PKI tokens, smartcards, and software. As a result, our customers can approve an electronic transaction from anywhere with a digital signature, without being tethered to one PC or carrying authentication tokens."
"This advancement enables our customers to create a web-trusted root for a variety of enterprise applications supported by the affordable, secure, and easy-to-use digital-signatures that CoSign is known for," explained John Marchioni, VP Business Development, Americas, ARX. "When people sign digitally and securely, they not only get speed and convenience, they scale their business processes rapidly and economically with the proper controls."
About GlobalSign
Established in 1996 and as a WebTrust accredited public certificate authority, GlobalSign offers publicly trusted SSL, including EV SSL Certificates, S/MIME and Code Signing Certificates for use on all platforms including mobile devices. Its Trusted Root solution uses the widely distributed GlobalSign Root CA certificates to provide immediate PKI trust for Microsoft CA and enterprise CAs, eliminating the costs associated with using untrusted Root Certificates. Its partnership with Adobe to provide Certified Document Services (CDS) enables secure digitally signed PDF e-documents. These core Digital Certificate solutions allow its thousands of customers to conduct secure online transactions and data transfer, distribute tamper-proof code, and bind identities to client certificates for email security and remote two factor authentication. The company has a history of innovation within the online security market and has offices in the US, UK, Belgium, Japan, and China.
About CoSign Digital Signatures
CoSign is ARX's digital signature solution that allows users to digitally sign multiple document types, records, files, forms, and electronic transactions from their desktop or via a zero-footprint technology using any Web browser. By using standard digital signature technology, CoSign produces a portable signature record for every signature it captures. The portable signature format - CoSign®PSF™ enables partners, customers, and prospects to retain and verify the proof of identity, intent, and transaction integrity over the life of the record without any proprietary software. CoSign signatures are being used by hundreds of thousands of users in Enterprise, B2B and B2C processes, to learn why please see our white papers and product details at http://www.arx.com/products/cosign_moreinfo.php.
About The Digital Signature Company - ARX (Algorithmic Research)
ARX is a global provider of digital signature solutions for the life sciences, healthcare, government, engineering, and manufacturing organizations. ARX has over 20 years of experience assisting life sciences, healthcare, governmental, engineering, and manufacturing businesses cost effectively to secure, streamline, and scale their business processes and transactions. The company specializes in enabling organizations of any size to scale digital signature and security solutions at the lowest TCO while retaining proper control mechanisms that are required by legislation, regulation and industry best practice. For more information, please visit http://www.arx.com.
CoSign is a registered trademark and CoSign PSF is a trademark of Algorithmic Research, Ltd. All other trade names and trademarks are the property of their respective holders.
###