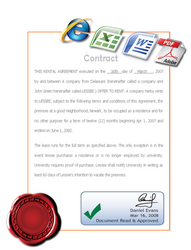 CoSign's strong security provisions and its tight integration with Mailhot's network were major factors in our decision
San Francisco, CA (PRWEB) August 14, 2008
CoSign digital signature software is implemented at Mailhot Industries (Quebec, Canada). With assistance from the leading digital signature company, ARX (Algorithmic Research), the international manufacturer of hydraulic cylinders has expedited processes and secured their workflow.
Engineering design approvals, QA forms, expense reports, and additional business processes require signatures as a part of Mailhot's internal procedures. Prior to Mailhot's implementation of CoSign, the documents were each printed, manually routed for signature purposes, and archived. With the generation of thousands of documents each month, the workflow had become extremely cumbersome, demanding a significant amount of attention simply for support. To remedy the situation, Mailhot decided to utilize CoSign, which offers a Public Key Infrastructure (PKI)-based solution that allowed for the creation of a secure paperless workflow and the integration of their engineering seals.
"CoSign provided us with a standard-based digital signature solution for streamlining our workflow, which also guaranteed that external entities will have no problem reading and validating our files," explained Rejean Belanger, IT Manager at Mailhot Industries. Rejean added, "CoSign's strong security provisions and its tight integration with Mailhot's network were major factors in our decision".
Mailhot's implementation of the CoSign digital signature software has allowed them to turn multiple day processes into procedures that can be completed in just a few hours. CoSign is also saving the company hundreds of dollars each month in paper-related costs. Expense reports and design approvals are now routed electronically and signed digitally, allowing documentation to be reviewed and authorized as quickly as it is prepared.
"Mailhot Industries' use of CoSign highlights the ease with which the CoSign digital signature software can assist an organization that produces thousands of paper documents a month, improve its operational efficiencies, and substantially cut its paper-related costs," said Ari Seror, Director of Professional Services, ARX.
About Mailhot Industries
Mailhot Industries manufactures telescopic and industrial cylinders that have won an international reputation. A 100,000 sq. ft. plant, as well as four strategically located manufacturing and distribution facilities, allows Mailhot to build and maintain close working relationships with each of its customers. Mailhot Industries' mission is to explore new technologies and adapt them to their customers' needs. For more information, please visit http://www.mailhotindustries.com/.
About CoSign Digital Signatures
CoSign® is ARX's digital signature solution that allows users to digitally sign multiple document types, records, files, forms, and electronic transactions from their desktop or via a zero-footprint technology using any Web browser. By using standard digital signature technology, CoSign produces a portable signature record for every signature it captures. The portable signature format - CoSign®PSF™ enables partners, customers, and prospects to retain and verify the proof of identity, intent, and transaction integrity over the life of the record without any proprietary software. CoSign signatures are being used by hundreds of thousands of users in Enterprise, B2B and B2C processes, to learn why please see our white papers and product details at http://www.arx.com/products/cosign_moreinfo.php.
About The Digital Signature Company - ARX (Algorithmic Research)
ARX is a global provider of digital signature solutions for the life sciences, healthcare, government, engineering, and manufacturing organizations. ARX has over 20 years of experience assisting life sciences, healthcare, governmental, engineering, and manufacturing businesses cost effectively to secure, streamline, and scale their business processes and transactions. The company specializes in enabling organizations of any size to scale digital signature and security solutions at the lowest TCO while retaining proper control mechanisms that are required by legislation, regulation and industry best practice. For more information, please visit http://www.arx.com.
CoSign is a registered trademark and CoSign PSF is a trademark of Algorithmic Research, Ltd. All other trade names and trademarks are the property of their respective holders.
###