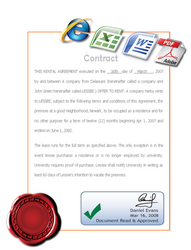 We are very pleased that ARX, who makes a truly excellent digital signature solution, have already announced compatibility with our new system.
San Francisco, CA (PRWEB) August 19, 2008
ARX announced today that its CoSign® digital signature (standard electronic signature) solution is available for Laserfiche's new enterprise content management (ECM) solution, Rio.
ARX is a member of the Laserfiche Professional Developer Partnership™ Program (PDP). CoSign for Rio provides Rio users with an integrated solution for electronic signing of documents within applications such as Microsoft® Word®, Excel®, InfoPath® and Adobe Acrobat®. Digital signature solutions allow organizations to replace handwritten signatures, sealing documents with legally-binding signatures as well as saving the costs and time associated with paper-based processes.
"CoSign's tight integration with Rio builds on the complete ECM solution Rio offers by delivering to users a turnkey digital signature solution. With CoSign and Rio, users guarantee the signer's identity and intent, and ensure the data integrity of all the documents they handle," said ARX Vice President of Business Development, Americas, John Marchioni. "The fact that Rio is so complete and easy to acquire is a big win for us, as we know the customer has everything they need to take full advantage of CoSign in their ECM environment."
"Rio provides a complete document management solution for the enterprise from a single vendor, and it is very important for our customers to be able to easily add to their solution to meet their specific business needs," said Alex Wilson, Laserfiche PDP Manager. "We are very pleased that ARX, who makes a truly excellent digital signature solution, have already announced compatibility with our new system."
About Laserfiche Rio
Laserfiche Rio is a powerful, complete solution that is straightforward to purchase, deploy, extend and manage. Designed for larger organizations, Laserfiche Rio brings together several modules of the Laserfiche content management suite in a new format that simplifies purchasing and planning while speeding enterprise deployment.
With Rio, organizations have the flexibility to reconfigure their systems to accommodate changing requirements, project scopes and business conditions, without extensive development, programming or staff effort. The Rio system includes information management, document imaging, DoD-certified records management, business process management, system activity monitoring and Web publishing modules in a single procurement.
For more information, visit http://www.laserfiche.com/rio.
About Laserfiche
Laserfiche creates simple and elegant document management solutions that help organizations run smarter. Since 1987, Laserfiche has helped more than 25,000 organizations--including state and local governments, financial services firms and healthcare providers --optimize business processes and reduce operating costs.
Laserfiche captures and indexes all your organization's scanned paperwork--from documents and faxes to e-mails and multimedia files--in a secure, central repository. A unified metadata model helps users classify information, while full-text search tools enable them to quickly find what they need. Laserfiche's open architecture and flexible API promote rapid integration with other Web- and Windows-based applications, allowing users to capture, manage and distribute information in diverse working environments. For more information, visit http://www.laserfiche.com.
About CoSign
The CoSign approach means digital signature standards and efficiencies across your operations. Signing and sealing documents with CoSign immediately expedites business processes, reduces costs, increases security and enables organizations to comply with diverse regional and industry regulations. CoSign works with all major applications and document formats including: Microsoft® Word, Excel®, Outlook®, Adobe® PDF, TIFF, AutoCAD®, InfoPath®, Lotus Forms, and many more. CoSign signatures are being used by hundreds of thousands of users in Enterprise, B2B and B2C processes, to learn why please see our white papers and product details at http://www.arx.com/products/cosign-digital-signatures.php.
About ARX (Algorithmic Research)
ARX has over 20 years of experience assisting life sciences, healthcare, governmental, engineering, banking, financial services organizations and commercial sectors to secure and streamline their business processes and transactions. ARX offers a wide range of highly scalable products designed to simplify, secure, and accelerate electronic business.
For more information, please visit http://www.arx.com.
CoSign is a registered trademark and CoSign PSF is a trademark of Algorithmic Research, Ltd. All other trade names and trademarks are the property of their respective holders.
###