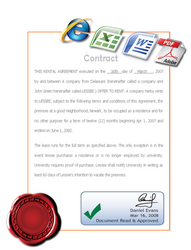 Praxis Group's implementation of CoSign is a poignant example of how digital signatures can serve as a significant asset in the financial industry's pursuit of forgery and theft prevention
San Francisco, CA (PRWEB) August 27, 2008
Praxis Group, a multi-disciplinary advisory practice providing an integrated range of accounting, wealth management, and estate planning services to private and corporate clients, have implemented the CoSign digital signature (standard electronic signature) solution in order to reinforce the security of their workflow and financial transactions.
Praxis Group's initial transaction process consisted of the company's associates utilizing paper documentation to communicate financial transaction requests to banking institutions. After internal review, the organization decided that it required a workflow process that eliminated the possibility of document forgery and allowed the transaction process to remain an electronic one. Praxis Group chose to implement CoSign digital signatures, which allow them to digitally sign and seal their documentation, eliminating the potential for paper-based forgery. To further strengthen their workflow process, Praxis Group coupled CoSign with a biometrics system that verifies each associate before they are authorized to handle a financial transaction.
Simon Thornton, Managing Partner at Praxis Group, explained, "Through our implementation of CoSign, we've found a digital signature solution that provides us with both risk mitigation and audit trails, and helps us maintain a paperless workflow."
Since the dual deployment of CoSign and a biometrics system, all financial transactions that Praxis Group handles are done in an optimally secure manner. After verification through the biometrics system, associates digitally sign transaction approval PDFs with CoSign. The CoSign digital signature seals the document, and it's sent to the banking institution via an electronic delivery system. Upon completion of a transaction, the paperless documentation is then managed in an Open Text document management system. CoSign's digital signature solution allows Praxis Group to keep their documentation paperless, and it also works seamlessly with their biometrics system, assisting the organization to achieve the security standards they strive to maintain.
"Praxis Group's implementation of CoSign is a poignant example of how digital signatures can serve as a significant asset in the financial industry's pursuit of forgery and theft prevention," said Ilan Patashnik, Chief Operational Officer at ARX.
About the Praxis Group
The Praxis Group offers a full range of professional services including accounting, auditing, trust and company administration, fund administration and taxation, to private individuals and international corporate clients. For more information on the Praxis Group, please visit http://www.praxisgroup.com.
About Alternative Solutions
Alternative Solutions is a well-established company offering innovative solutions and services to organisations that operate primarily in finance (Asset Management, Banking, Fiduciary, Fund Administration, and Private Equity), legal, and commercial sectors. Their Partnerships with ARX, Cisco, Citrix, Double-Take, HP, Kofax, Microsoft (Gold Partner), and Open Text mean that they can deliver true end-to-end solutions. For more information on Alternative Solutions, please visit http://www.asl.gg/ASL.html.
About CoSign Digital Signatures
CoSign is ARX's digital signature solution that allows users to digitally sign multiple document types, records, files, forms, and electronic transactions from their desktop or via a zero-footprint technology using any Web browser. By using standard digital signature technology, CoSign produces a portable signature record for every signature it captures. The portable signature format - CoSign®PSF™ enables partners, customers, and prospects to retain and verify the proof of identity, intent, and transaction integrity over the life of the record without any proprietary software. CoSign signatures are being used by hundreds of thousands of users in Enterprise, B2B and B2C processes, to learn why please see our white papers and product details at http://www.arx.com/products/cosign_moreinfo.php.
About The Digital Signature Company - ARX (Algorithmic Research)
ARX is a global provider of digital signature solutions for the life sciences, healthcare, government, engineering, and manufacturing organizations. ARX has over 20 years of experience assisting life sciences, healthcare, governmental, engineering, and manufacturing businesses cost effectively to secure, streamline, and scale their business processes and transactions. The company specializes in enabling organizations of any size to scale digital signature and security solutions at the lowest TCO while retaining proper control mechanisms that are required by legislation, regulation and industry best practice. For more information, please visit http://www.arx.com.
CoSign is a registered trademark and CoSign PSF is a trademark of Algorithmic Research, Ltd. All other trade names and trademarks are the property of their respective holders.
###