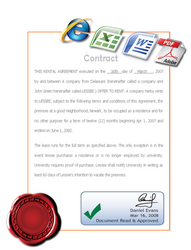 It is more critical than ever for companies to increase the security and integrity of their valuable information. In order to help our joint customers better protect their information, we are pleased to be working with ARX to achieve interoperability between RSA SecurID technology and the CoSign digital signature solution
San Francisco, CA (PRWEB) September 3, 2008
ARX, the leading provider of digital signature solutions, announced today that it has joined the RSA Secured partner program, certifying interoperability between its CoSign Digital Signatures and the RSA SecurID® two-factor authentication solution developed by RSA, The Security Division of EMC (NYSE: EMC). ARX and RSA can now provide joint customers with an interoperable solution composed of a convenient and standard digital signature solution with strong authentication - providing the benefit of an additional layer of security for digital signatures.
Interoperability with RSA SecurID two-factor authentication is designed to enhance the existing CoSign digital signature (standard electronic signature) signer-authentication schemes. The RSA SecurID system is as simple to use as entering a password, but significantly more secure. Used in conjunction with RSA® Authentication Manager software, an RSA SecurID authenticator functions like an ATM card for a company network, requiring users to identify themselves with two unique factors -- something they know (a password or PIN), and something they have (an RSA SecurID hardware or software authenticator) -- before they are granted access to secure business information.
"ARX selected RSA SecurID, in part, because of the appeal of its interoperability with a broad number of platforms and technologies to customers," said John Marchioni, VP Business Development, Americas, ARX. "Since CoSign does not require ARX-signature-software installations on the user's PC, RSA SecurID is an ideal complement that further supports CoSign's centralized-management design."
"It is more critical than ever for companies to increase the security and integrity of their valuable information. In order to help our joint customers better protect their information, we are pleased to be working with ARX to achieve interoperability between RSA SecurID technology and the CoSign digital signature solution," said D.J. Long, Senior Director, Corporate Development at RSA. "Our organizations are committed to help mitigate risk to sensitive information throughout its lifecycle to ensure that it is always an asset and not a liability, allowing organizations to focus on accelerating their business objectives."
About the RSA Secured Partner Program:
The RSA Secured Partner Program is one of the largest alliance programs of its type, bringing over a dozen years of experience and hundreds of complementary solutions together. RSA SecurID®, RSA® Access Manager, RSA® Certificate Manager, RSA® Federated Identity Manager and RSA® Key Manager certification programs bring added assurance to customers that the solutions they are deploying are certified as interoperable with industry leading products, helping them achieve faster time to deployment and lower overall cost of ownership. The RSA Secured Partner Program reflects RSA's commitment to providing standards-based interoperability and mutual vendor support to customers using its identity assurance and access management solutions. For more information, please visit http://www.rsa.com/rsasecured.
About CoSign Digital Signatures:
CoSign® is ARX's digital signature solution that allows users to digitally sign multiple document types, records, files, forms, and electronic transactions from their desktop or via a zero-footprint technology using any Web browser. By using standard digital signature technology, CoSign produces a portable signature record for every signature it captures. The portable signature format - CoSign®PSF™ enables partners, customers, and prospects to retain and verify the proof of identity, intent, and transaction integrity over the life of the record without any proprietary software. CoSign signatures are being used by hundreds of thousands of users in Enterprise, B2B and B2C processes, to learn why please see our white papers and product details at http://www.arx.com/products/cosign-digital-signatures.php.
About The Digital Signature Company - ARX (Algorithmic Research):
ARX is a global provider of digital signature solutions for the life sciences, healthcare, government, engineering, and manufacturing organizations. ARX has over 20 years of experience assisting life sciences, healthcare, governmental, engineering, and manufacturing businesses cost effectively to secure, streamline, and scale their business processes and transactions. The company specializes in enabling organizations of any size to scale digital signature and security solutions at the lowest TCO while retaining proper control mechanisms that are required by legislation, regulation and industry best practice. For more information, please visit http://www.arx.com.
CoSign is a registered trademark and CoSign PSF is a trademark of Algorithmic Research, Ltd. RSA, Secured and SecurID are registered trademarks or trademarks of RSA Security Inc. in the U.S. and/or other countries. EMC is a registered trademark of EMC Corporation. All other trade names and trademarks are the property of their respective holders.
###