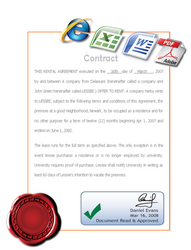 Perot Systems' deployment of CoSign highlights the numerous processes within a workflow that the CoSign digital signature solution can replace, reducing the amount of time an individual has to focus on peripheral activities
San Francisco, CA (PRWEB) October 16, 2008
The CoSign digital signature (standard electronic signature) solution has been implemented at Perot Systems Corporation, a worldwide provider of information technology services and business solutions. By utilizing the CoSign digital signature solution from ARX (Algorithmic Research), a leading provider of digital signature solutions, Perot Systems has been able to transform their paper-based workflow into an electronic one.
Previous to their implementation of CoSign, Perot Systems' field consultants were required to complete contracts on-site, then print, sign, and fax them to the company's Pittsburg headquarters for processing. As the paperwork involved in the process was substantial and fax machines were not always readily available, the company determined that it would expedite their workflow to move to a paperless process. To eliminate the field consultant's reliance on paper for signing purposes, Perot Systems decided to employ a digital signature solution.
"Perot Systems' deployment of CoSign highlights the numerous processes within a workflow that the CoSign digital signature solution can replace, reducing the amount of time an individual has to focus on peripheral activities," explained Mike Milton, VP Sales, Americas, ARX.
The implementation of CoSign eliminated the hurdles and transformed the workflow at Perot Systems. Since deploying the CoSign digital signature solution, Perot Systems' 25 field consultants have been utilizing digital signatures to handle hundreds of documents a day. The processing procedures that once took hours to complete, are now performed in seconds, as printing, signing, and faxing are all replaced with the simple click of a button.
About Perot Systems
Perot Systems Corporation has delivered technology-based business solutions to help organizations worldwide control costs and cultivate growth. Drawing on deep industry expertise and a portfolio of interrelated consulting, business process, application, and infrastructure services, we blend strategic design, proven technology, and timely delivery to create solutions that maximize returns on IT investments. For more information about Perot Systems, please visit http://www.perotsystems.com/default.
About CoSign Digital Signatures
CoSign® is ARX's digital signature solution that allows users to digitally sign multiple document types, records, files, forms, and electronic transactions from their desktop or via a zero-footprint technology using any Web browser. By using standard digital signature technology, CoSign produces a portable signature record for every signature it captures. The portable signature format - CoSign®PSF™ enables partners, customers, and prospects to retain and verify the proof of identity, intent, and transaction integrity over the life of the record without any proprietary software. CoSign signatures are being used by hundreds of thousands of users in Enterprise, B2B and B2C processes, to learn why please see our white papers and product details at http://www.arx.com/products/cosign_moreinfo.php.
About the Digital Signature Company - ARX (Algorithmic Research)
ARX is a global provider of digital signature solutions for the life sciences, healthcare, government, engineering, and manufacturing organizations. ARX has over 20 years of experience assisting businesses to cost effectively secure, streamline, and scale their business processes and transactions. The company specializes in enabling organizations of any size to scale digital signature and security solutions at the lowest TCO while retaining proper control mechanisms that are required by legislation, regulation and industry best practice. For more information, please visit http://www.arx.com.
CoSign® is a registered trademark of Algorithmic Research, Ltd. All other trade names and trademarks are the property of their respective holders.
###