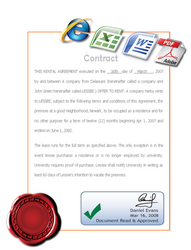 CoSign's design met our security and technical requirements out-of-the-box
San Francisco, CA (PRWEB) October 28, 2008
Engineers at Braun Intertec can now securely review, approve, and digitally sign data while at a construction site. By utilizing the CoSign digital signature solution from ARX (Algorithmic Research), a leading provider of digital signature solutions, an official report can immediately be e-mailed to the company's client while the engineer is still on-site. This enhanced capacity further improves Braun Intertec's competitive edge in the engineering and environmental consulting field.
CoSign digital signatures are not only speeding Braun Intertec's internal processes, but also easing writer's cramp: Engineers now have the ability to sign reviewed test reports in batches, alleviating workload and accomplishing mandatory processes in seconds.
"CoSign's design met our security and technical requirements out-of-the-box," explained Brian Hase, IT Director, Braun Intertec. "Since CoSign is an all-inclusive Public Key Infrastructure (PKI) digital signature system, signed reports are globally valid and verifiable for integrity and authenticity by any client."
Braun Intertec required a digital signing solution that would integrate with its pre-existing .NET-based report generation application, in order to streamline the internal review and signing process of the field environmental test results that their engineers handle regularly. Previous to their implementation of the CoSign digital signature solution, each test result was converted to a Microsoft® Word document, printed, and then forwarded to the appropriate engineer for verification and signing. For staff coordinating document publication efforts between remote locations, the old process could take as long as a day in terms of travel and coordination with other personnel.
"Braun Intertec's implementation of CoSign is an excellent example of how the CoSign digital signature solution can be tailored to an organization's business processes and deliver the speed, security and convenience of an electronic signing process," explained Mike Milton, VP Sales, Americas, ARX. "A deployment like Braun Intertec's boosts business agility and enables secure collaboration both internally and with 3rd parties."
CoSign was integrated with the organization's .NET-based reports application so that an engineer can review data directly from the application, and batch approve and sign multiple reports with a simple click of the mouse. In addition, the seamless integration with Braun Intertec's application via CoSign's API (SAPI), as well as its tight integration with the company's Active Directory, were significant incentives for the organization's decision to implement CoSign.
About Braun Intertec
Based in Minneapolis, employee-owned Braun Intertec (braunintertec.com) is a premier engineering and environmental consulting and testing firm that has more than 400 employees located in four Twin Cities offices as well as Hibbing, Rochester, Mankato and St. Cloud. The firm also has offices in Bismarck and Fargo, N.D., La Crosse, Wis., Decorah, Iowa, and Detroit. For more information visit http://www.braunintertec.com.
About CoSign Digital Signatures
CoSign is ARX's digital signature solution that allows users to digitally sign multiple document types, records, files, forms, and electronic transactions from their desktop or via a zero-footprint technology using any Web browser. By using standard digital signature technology, CoSign produces a portable signature record for every signature it captures. The portable signature format - CoSign®PSF™ enables partners, customers, and prospects to retain and verify the proof of identity, intent, and transaction integrity over the life of the record without any proprietary software. CoSign signatures are being used by hundreds of thousands of users in Enterprise, B2B and B2C processes, to learn why please see our white papers and product details at http://www.arx.com/products/cosign_moreinfo.php.
About the Digital Signature Company - ARX (Algorithmic Research)
ARX is a global provider of digital signature solutions for the life sciences, healthcare, government, engineering, and manufacturing organizations. ARX has over 20 years of experience assisting businesses to cost effectively secure, streamline, and scale their business processes and transactions. The company specializes in enabling organizations of any size to scale digital signature and security solutions at the lowest TCO while retaining proper control mechanisms that are required by legislation, regulation and industry best practice. For more information, please visit http://www.arx.com.
CoSign is a registered trademark of Algorithmic Research, Ltd. All other trade names and trademarks are the property of their respective holders.
###