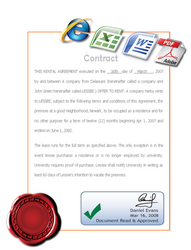 By choosing CoSign, Cal-PASS was able to incorporate a digital signature solution that met their standards for ease of use and management, as well as a solution that allows them to securely send documentation outside of their organization
San Francisco, California (PRWEB) December 9, 2008
ARX, a leading global provider of digital signatures (standard electronic signatures), announced the deployment of a CoSign digital-signature solution at Cal-PASS, an education-based organization that analyzes scholastic data in order to improve student success.
Previous to their implementation of the CoSign digital signature solution, Cal-PASS had to physically route internal documentation that called for employee signatures. With employees based in multiple locations, the need to physically route documentation increased project times and necessitated costly shipping fees. Cal-PASS decided that a digital signature solution would help them eliminate the bottlenecks in their workflow by allowing them to keep documentation electronic through their signature authorization process. A digital signature would also reduce overall business costs by eliminating the need to ship documentation.
Once CoSign was deployed at Cal-PASS, the organization was able to utilize the solution to digitally sign their electronic documentation, relying on the CoSign portable signature format (CoSign PSF™). The CoSign PSF provides proof of the signer's identity, intent, and document integrity within multiple document types for decades into the future. By utilizing CoSign, Cal-PASS could electronically distribute documentation for signing and receive authorizations in minutes, a significant increase from the multiple day turnaround of their original process. In addition to the advance in their documentation turnaround, Cal-PASS' implementation of CoSign allowed them to save thousands of dollars a year on shipping costs.
"By choosing CoSign, Cal-PASS was able to incorporate a digital signature solution that met their standards for ease of use and management, as well as a solution that allows them to securely send documentation outside of their organization," said Mike Milton, VP of Sales, America, ARX.
About CoSign Digital Signatures
CoSign makes it easy to digitally sign transactions, documents, and records by embedding the standard signature technology directly into mainstream business applications. CoSign produces a signature record for every signature it captures. This Portable Signature Format (CoSign PSF™) allows anyone to seamlessly verify and retain proof of identity, intent, and document integrity without costly, complicated, or proprietary software. CoSign keeps your business running smoothly by fully automating and quickly scaling processes at a low cost and with proper controls. Learn more at http://www.arx.com/products/cosign_moreinfo.php.
About The Digital Signature Company - ARX (Algorithmic Research)
ARX (Algorithmic Research) is a global provider of cost-efficient digital signature solutions for industries such as life sciences, healthcare, government, and engineering. ARX engineers and scientists have more than 20 years of experience in security and standard digital signature application. ARX helps businesses secure, streamline, and scale their business processes and transactions with the proper controls required by legislation, regulation, and industry best practice. Visit us at http://www.arx.com.
CoSign is a registered trademark and CoSign PSF is a trademark of Algorithmic Research, Ltd. All other trade names and trademarks are the property of their respective holders.
###