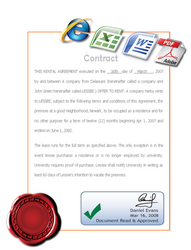 Our deployment at AIG-Israel demonstrates the growing demand of digital signature solutions from industry-leading enterprises
San Francisco, CA (PRWEB) February 27, 2009
The CoSign digital signature (standard electronic signature) solution is implemented by AIG-Israel in an effort to reduce the paper workflow. With deployment assistance from ARX, a leading digital signature company, the Israeli office of AIG, the world leaders in insurance and financial services, has maximized their workforce.
AIG-Israel decided to implement an electronic workflow for their team of mobile agents in order to maximize their resources. Moving from a paper-based process to an electronic one would allow the organization to manage their customers with greater speed and accuracy, maximizing on their abilities to offer increased point-of-sale service. AIG-Israel required a digital signature solution that allowed its agents to sign electronic documentation off-site and also captured the signature of customers, in order to move their practice from paper to electronic. Due to its proven track record of flexible and comprehensive digital signature solutions and its ability to aid in SOX compliance, AIG-Israel chose CoSign for their digital signature needs.
The CoSign digital signature solution deployed at AIG-Israel was integrated to work via a cellular connection, allowing the company's agents the ability to sign their electronic documentation off-site via laptops. CoSign was also integrated with WonderNet's Wacom e-pads, which allowed agents to combine the captured graphical signatures of their customers with their own digital signatures in the same electronic document.
"Our deployment at AIG-Israel demonstrates the growing demand of digital signature solutions from industry-leading enterprises," said Raanan Dahari, Director of Sales-EMEA, ARX. "This digital signature solution highlights CoSign's ability to meet wide-ranging business needs."
About CoSign Digital Signatures:
CoSign makes it easy to digitally sign transactions, documents, and records by embedding the standard signature technology directly into mainstream business applications. CoSign produces a signature record for every signature it captures. This Portable Signature Format (CoSign PSF™) allows anyone to seamlessly verify and retain proof of identity, intent, and document integrity without costly, complicated, or proprietary software. CoSign keeps your business running smoothly by fully automating and quickly scaling processes at a low cost and with proper controls. Learn more at http://www.arx.com/products/cosign_moreinfo.php.
About ARX - The Digital Signature Company:
ARX (Algorithmic Research) is a global provider of cost-efficient digital signature solutions for industries such as life sciences, healthcare, government, and engineering. ARX engineers and scientists have more than 20 years of experience in security and standard digital signature application. ARX helps businesses secure, streamline, and scale their business processes and transactions with the proper controls required by legislation, regulation, and industry best practice. Visit us at http://www.arx.com.
CoSign is a registered trademark and CoSign PSF is a trademark of Algorithmic Research, Ltd. All other trade names and trademarks are the property of their respective holders.
###