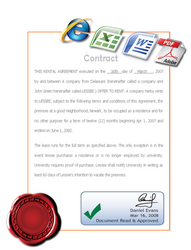 Ten Tips for Selecting the Best Digital Signature Solution
Philadelphia, PA (PRWEB) March 31, 2009
ARX (Algorithmic Research), a leading provider of digital signature solutions (standard electronic signatures), will be exhibiting and presenting at the 2009 AIIM International Exposition and Conference. The presentation will be given by ARX's CEO Gadi Aharoni, and will address the "Ten Tips for Selecting the Best Digital Signature Solution". Joining Dr. Aharoni will be Fish & Richardson P.C.'s Director of Practice Systems, Rolf Hille. Mr. Hille will discuss Fish & Richardson's successful use of the CoSign digital signature solution.
The AIIM event offers an opportunity for hundreds of information management professionals to gather and evaluate technologies, as well as compare and contrast the products and services they are researching online. Such a comprehensive gathering of IT industry professionals provides an ideal venue for ARX to educate key players on the productivity benefits that the correct digital signature solution can bring to organizations of all sizes.
"Choosing the appropriate digital signature solution can be the key to enhancing the productivity of a paper-less office," said Gadi Aharoni, CEO, ARX. "Digital signature solutions allow organizations to increase productivity by eliminating paper, easing collaboration, and leveraging the full potential of electronic document management systems."
Dr. Aharoni's presentation (session CRS04) will take place on March 31 from 3:30 - 4:20pm in room 103B. In addition to the presentation, ARX will be exhibiting its CoSign digital signature solution in booth #940 during the event.
About CoSign Digital Signatures
CoSign makes it easy to digitally sign transactions, documents, and records by embedding the standard signature technology directly into mainstream business applications. CoSign produces a signature record for every signature it captures. This Portable Signature Format (CoSign PSF™) allows anyone to seamlessly verify and retain proof of identity, intent, and document integrity without costly, complicated, or proprietary software. CoSign keeps your business running smoothly by fully automating and quickly scaling processes at a low cost and with proper controls. Learn more at http://www.arx.com/products/cosign_moreinfo.php.
About The Digital Signature Company - ARX
ARX (Algorithmic Research) is a global provider of cost-efficient digital signature solutions for industries such as life sciences, healthcare, government, and engineering. ARX engineers and scientists have more than 20 years of experience in security and standard digital signature application. ARX helps businesses secure, streamline, and scale their business processes and transactions with the proper controls required by legislation, regulation, and industry best practice. Visit us at http://www.arx.com.
CoSign is a registered trademark and CoSign PSF is a trademark of Algorithmic Research, Ltd. All other trade names and trademarks are the property of their respective holders.
###