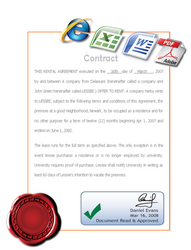 CoSign's ability to work seamlessly with the industries leading document management systems allowed the University of Kentucky to move forward with the CoSign digital signature solution with the peace of mind that it would work with whatever DMSS they deployed in the future
San Francisco, CA (PRWEB) April 7, 2009
The CoSign digital signature (standard electronic signature) solution has been implemented at the Office of the Provost at the University of Kentucky, the state's only comprehensive, land-grant research university. The implementation of the CoSign digital signature solution will improve efficiency, save money, and allow the office to improve its overall documentation workflow.
With the Office of the Provost's need to circulate and approve hundreds of documents on any given day, their original paper-based process was causing significant workflow delays as managing such a vast amount of documentation was unwieldy. After a review of their operating procedures, the Office of the Provost decided to implement a digital signature solution that would allow them to electronically route and sign documents without the need to ever reintroduce paper into the workflow for signing purposes. A digital signature's capacity to eliminate paper from the workflow would reduce the office's paper-related costs (printing, handling, mailing, scanning, and archiving documents) and allow document exchanges to take place within seconds, as opposed to more time-consuming manual routing.
During their review of digital signature solutions the Office of the Provost decided that their migration to an electronic workflow would dictate the need for a Document Management System (DMS). An additional reason behind the university's decision to implement CoSign was its ability to immediately provide a secure digital signature solution that would not limit the Office of the Provost's choices of future DMS.
"CoSign's ability to work seamlessly with the industries leading document management systems allowed the University of Kentucky to move forward with the CoSign digital signature solution with the peace of mind that it would work with whatever DMSS they deployed in the future," said Mike Milton, VP of Sales, Americas, ARX.
About CoSign Digital Signatures
CoSign makes it easy to digitally sign transactions, documents, and records by embedding the standard signature technology directly into mainstream business applications. CoSign produces a signature record for every signature it captures. This Portable Signature Format (CoSign PSF™) allows anyone to seamlessly verify and retain proof of identity, intent, and document integrity without costly, complicated, or proprietary software. CoSign keeps your business running smoothly by fully automating and quickly scaling processes at a low cost and with proper controls. Learn more at http://www.arx.com/products/cosign_moreinfo.php.
About ARX - The Digital Signature Company
ARX (Algorithmic Research) is a global provider of cost-efficient digital signature solutions for industries such as life sciences, healthcare, government, and engineering. ARX engineers and scientists have more than 20 years of experience in security and standard digital signature application. ARX helps businesses secure, streamline, and scale their business processes and transactions with the proper controls required by legislation, regulation, and industry best practice. Visit us at http://www.arx.com.
CoSign is a registered trademark and CoSign PSF is a trademark of Algorithmic Research, Ltd. All other trade names and trademarks are the property of their respective holders.
###