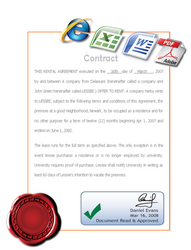 The CoSign digital signature solution is a key component for organizations that want to see results from the investments they've made automating their businesses
San Francisco, California (PRWEB) April 23, 2009
The CoSign digital signature (standard electronic signature) solution has been implemented at the Fort Wayne/Allen County Airport Authority (FWACAA), the public body that owns and operates the Fort Wayne/Allen County Airport. Their implementation of CoSign allows FWACAA to streamline their internal processes by maintaining an electronic workflow from document creation through signature authorization.
Due to their migration from a paper-based workflow to an electronic one, FWACAA required a digital signature solution that allowed them to maintain an electronic workflow from document creation through signing authorization, eliminating their need to reintroduce paper into the workflow for signing purposes. In order to enhance their ability to conduct business with external parties, the organization also required the digital signature solution to be verifiable by third parties without the need to download any additional software or plug-ins. Designed for compatibility with Microsoft SharePoint Server, CoSign is a non-proprietary digital signature solution that works seamlessly with FWACAA's Document Management System (DM) and provides the organization with a highly scalable signature solution, should future needs require such a capacity.
Since documentation no longer needs to be routed manually, authorization processes that once took several days can now be completed in just a few minutes, allowing FWACAA to see significant improvement in their organizational processes.
"The CoSign digital signature solution is a key component for organizations that want to see results from the investments they've made automating their businesses," said Mike Milton, VP of Sales, Americas, ARX. "FWACAA's deployment of CoSign showcases the benefits these organizations can expect from the CoSign digital signature solution.
About CoSign Digital Signatures
CoSign makes it easy to digitally sign transactions, documents, and records by embedding the standard signature technology directly into mainstream business applications. CoSign produces a digital signature record for every signature it captures. This Portable Signature Format (CoSign PSF™) allows anyone to seamlessly verify and retain proof of identity, intent, and document integrity without costly, complicated, or proprietary software. CoSign's digital signature keeps your business running smoothly by fully automating and quickly scaling processes at a low cost and with proper controls. Learn more at http://www.arx.com/products/cosign-digital-signatures.php.
About ARX - The Digital Signature Company
ARX (Algorithmic Research) is a global provider of cost-efficient digital signature solutions for industries such as life sciences, healthcare, government, and engineering. ARX engineers and scientists have more than 20 years of experience in security and standard digital signature application. ARX helps businesses secure, streamline, and scale their business processes and transactions with the proper controls required by legislation, regulation, and industry best practice. Visit us at http://www.arx.com.
CoSign is a registered trademark and CoSign PSF is a trademark of Algorithmic Research, Ltd. All other trade names and trademarks are the property of their respective holders.
###