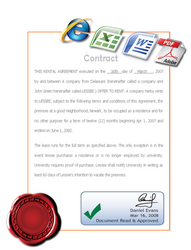 Businesses invest millions of dollars in streamlining and automating their operations, yet one task often overlooked is the automation of the approvals process
San Francisco, CA (PRWEB) April 28, 2009
During the upcoming AIIM - ECM (Enterprise Content Management) Seminars in San Francisco on May 6 and Seattle on May 12, ARX's John Marchioni, Vice President of Business Development, will give a presentation addressing how digital signatures enable end-to-end electronic processes across multiple business functions and applications. The event will detail how digital signatures are an ideal addition to the technologies, tools, and methods used to manage and deliver content across an enterprise. Specifically, Mr. Marchioni's presentation will address how digital signature technology enables an organization to thoroughly leverage pre-existing document or content management applications, fully optimizing business processes.
"Businesses invest millions of dollars in streamlining and automating their operations, yet one task often overlooked is the automation of the approvals process," said Mr. Marchioni. He continued, "Organizations that deploy a digital signature capability with their ECM solution affordably complete their investments in business process automation, optimize operations, and observe a measureable positive impact in terms of information integrity, control, and audit efficiency."
Event attendees will gain a practical orientation to the operational benefits of digital signatures including accelerated approval cycles, enhanced quality and integrity, and lowered costs associated with content archiving and audits.
About CoSign Digital Signatures
CoSign makes it easy to digitally sign transactions, documents, and records by embedding the standard signature technology directly into mainstream business applications. CoSign produces a signature record for every signature it captures. This Portable Signature Format (CoSign PSF™) allows anyone to seamlessly verify and retain proof of identity, intent, and document integrity without costly, complicated, or proprietary software. CoSign keeps your business running smoothly by fully automating and quickly scaling processes at a low cost and with proper controls. Learn more at http://www.arx.com/products/cosign_moreinfo.php.
About The Digital Signature Company - ARX
ARX (Algorithmic Research) is a global provider of cost-efficient digital signature solutions for industries such as life sciences, healthcare, government, and engineering. ARX engineers and scientists have more than 20 years of experience in security and standard digital signature application. ARX helps businesses secure, streamline, and scale their business processes and transactions with the proper controls required by legislation, regulation, and industry best practice. Visit us at http://www.arx.com.
CoSign is a registered trademark and CoSign PSF is a trademark of Algorithmic Research, Ltd. All other trade names and trademarks are the property of their respective holders.
###