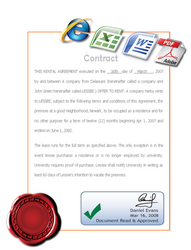 CoSign allows those employees to sign the necessary documents without being bogged down with the expenses or complications of relying on paper-based processes.
San Francisco, CA (PRWEB) May 22, 2009
The CoSign digital signature (standard electronic signature) solution has been implemented by Washington's Lottery, a business established to generate revenues for state programs through the sale of lottery products. The CoSign digital signature solution allows the lottery to digitally sign the electronic documentation the organization uses to enroll retail institutions interested in participated in their reseller program.
The field representatives of Washington's Lottery are responsible for enrolling statewide retail institutions in the lottery's reseller program. The reality of their work requires them to travel extensively, relying on their Tablet PCs to process the Point of Sale (POS) applications they need to complete when they meet face-to-face with the managers and owners of the institutions they are enrolling. A key element of the enrollment process involves the field representative's signature authorization on the paperwork. As such, the organization required a digital signature solution that would allow them to capture signature authorizations while maintaining their electronic Tablet PC-managed processes. Due to its centralized approach and seamless synchronization with the organization's user directory, Washington's Lottery decided to implement the CoSign digital signature solution.
Due to the success Washington's Lottery has had with their field representative's use of CoSign, the organization has decided to provide the corporate office's entire staff with digital signature capabilities. The intent of this decision is to leverage CoSign's capacities to expediting their overall business processes and reduce the organization's overhead.
"As highlighted by its use at Washington's Lottery, the CoSign digital signature is a tremendous asset for organizations with employees that are signing documentation in the field or offsite," said Mike Milton, VP of Sales, Americas, ARX. "CoSign allows those employees to sign the necessary documents without being bogged down with the expenses or complications of relying on paper-based processes."
About CoSign Digital Signatures
CoSign makes it easy to digitally sign transactions, documents, and records by embedding the standard signature technology directly into mainstream business applications. CoSign produces a signature record for every signature it captures. This Portable Signature Format (CoSign PSF™) allows anyone to seamlessly verify and retain proof of identity, intent, and document integrity without costly, complicated, or proprietary software. CoSign keeps your business running smoothly by fully automating and quickly scaling processes at a low cost and with proper controls. Learn more at http://www.arx.com/products/cosign_moreinfo.php.
About ARX - The Digital Signature Company
ARX (Algorithmic Research) is a global provider of cost-efficient digital signature solutions for industries such as life sciences, healthcare, government, and engineering. ARX engineers and scientists have more than 20 years of experience in security and standard digital signature application. ARX helps businesses secure, streamline, and scale their business processes and transactions with the proper controls required by legislation, regulation, and industry best practice. Visit us at http://www.arx.com.
CoSign is a registered trademark and CoSign PSF is a trademark of Algorithmic Research, Ltd. All other trade names and trademarks are the property of their respective holders.
###