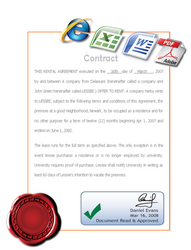 During our implementation, CoSign integrated seamlessly with the Open Text Document Management system (Hummingbird) that the Supreme Court had in place
San Francisco, Calif. and Gravenhage, Netherlands (PRWEB) August 18, 2009
ARX and Cap Gemini have implemented the CoSign digital signature solution at the Hoge Raad der Nederlanden, the Dutch Supreme Court. By deploying CoSign, the Dutch Supreme Court eliminated the need to reintroduce paper into their workflow for signing purposes, completing the final step in their paperless processes.
The Dutch Supreme Court reviews thousands of lower court decisions each year. This responsibility results in an enormous archive of official documents. In order to better handle and access their documentation, the court decided to migrate their workflow process to an Open Text Document Management System, requesting Cap Gemini to coordinate and advise on the project. However, even with a document management system, court documents that required signatures needed to be printed, reintroducing paper into the workflow together with the associated costs and delays. A digital signature solution for Open Text was an ideal resolution, as it removed the court's need to print documentation for signing purposes and allowed it to fully leverage the benefits of its document management system (see a short demo describing how digital signatures enable signature-based approval workflows).
"During our implementation, CoSign integrated seamlessly with the Open Text Document Management system (Hummingbird) that the Supreme Court had in place," said John Lageman, Cap Gemini NL Business Information Management Manager.
CoSign digital signature software supports all major documentation formats, including Microsoft Word, Excel, Outlook and PDF, and allows users to place multiple digital signatures in a single document. CoSign embeds a signature record that travels with the document for every signature it captures. This portable signature format, CoSign PSF®, enables partners, customers, and prospects to retain and verify the proof of identity, intent, and transaction integrity of documentation without any proprietary software. Moreover, CoSign complies with all directives regarding Electronic Signatures, including the EU Directive for Electronic Signatures (1999/93/EC).
"The deployment of CoSign at the Dutch Supreme Court further illustrates the professional world's growing acceptance of digital signature solutions in the migration to paperless workflows, "stated Dr. Gadi Aharoni, CEO of ARX. "Our work with the Supreme Court goes a long way to validate both the merit and legal compliance of CoSign digital signature solutions."
About CoSign Digital Signatures
ARX's CoSign digital signature solution automates approvals affordably in a compliant manner, allowing organizations to go paperless, expedite business processes and save costs. CoSign is the only digital signature solution that is seamlessly integrated with Microsoft SharePoint and other popular DM/ECM solutions. CoSign signatures are globally accepted by external partners without the need for proprietary-validation software. CoSign is also centrally managed through the organization's user directory for reliable control of signature privileges, and ease of use and administration. Learn more about the CoSign digital signature solution.
About The Digital Signature Company - ARX
ARX (Algorithmic Research) is a global provider of cost-efficient digital signature solutions for industries such as life sciences, healthcare, government, engineering, and energy. ARX engineers and scientists have more than 20 years of experience in security and standard digital signature application. ARX helps businesses secure, streamline, and scale their processes and transactions with the proper controls required by legislation, regulation, and industry best practice. Visit us at http://www.arx.com.
CoSign is a registered trademark and CoSign PSF is a trademark of Algorithmic Research, Ltd. All other trade names and trademarks are the property of their respective holders.
###