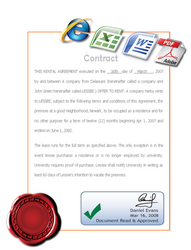 ARX recognizes General Dynamics IT's reputation for deploying scalable IT solutions that have a clearly measurable return on investment. CoSign is a perfect complement given its affordable and easy-to-use digital signatures capabilities
Fairfax, VA (PRWEB) September 23, 2009
General Dynamics Information Technology (IT), a division of General Dynamics Corporation, has added standard digital signatures to its solutions portfolio via its partnership with ARX, Inc. The ARX CoSign digital signature solution enables users to affordably complete their investments in automating enterprise business processes, including management of electronic records and documents.
A CoSign digital signature binds a signer's identity, intent and document integrity into a record within a business process. Any attempt to tamper with a signed document or record invalidates the signature. The digital signature technique is a U.S. Federal standard for electronic signatures. CoSign is supported by mainstream business applications making digital signatures convenient to use and preventing vendor gridlock. A CoSign signature provides two significant benefits: (1) when a document is signed, signers can no longer deny their signature and (2) tampering with a signed document instantly invalidates the signature.
CoSign is a standard PKI-driven solution that has been certified by the U.S. National Voluntary Laboratory Accreditation Program (NVLAP) at FIPS 140-2 Level 3, and it meets NIST and Federal requirements for a digital signature solution.
"ARX recognizes General Dynamics IT's reputation for deploying scalable IT solutions that have a clearly measurable return on investment. CoSign is a perfect complement given its affordable and easy-to-use digital signatures capabilities," explained John Marchioni, VP Business Development, ARX. "When people sign with CoSign, they not only get security, speed and convenience, they also lower their operational costs while maintaining the proper controls."
About CoSign Digital Signatures
ARX's CoSign digital signature solution automates approvals affordably in a compliant manner, allowing organizations to go paperless, expedite business processes and save costs. CoSign is the only digital signature solution that is seamlessly integrated with Microsoft SharePoint and other popular DM/ECM solutions. CoSign signatures are globally accepted by external partners without the need for proprietary-validation software. CoSign is also centrally managed through the organization's user directory for reliable control of signature privileges, and ease of use and administration. Learn more about the CoSign digital signature solution.
About ARX - The Digital Signature Company
ARX (Algorithmic Research) is a global provider of cost-efficient digital signature solutions for industries such as life sciences, healthcare, government, engineering, and energy. ARX engineers and scientists have more than 20 years of experience in security and standard digital signature application. ARX helps businesses secure, streamline, and scale their processes and transactions with the proper controls required by legislation, regulation, and industry best practice. Learn more about us.
CoSign is a registered trademark and CoSign PSF is a trademark of Algorithmic Research, Ltd. All other trade names and trademarks are the property of their respective holders.
###