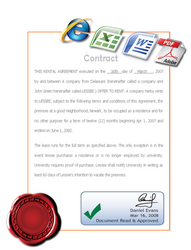 CoSign has reduced the time it takes for the organization to complete a sale by 50%
San Francisco, California (PRWEB) January 6, 2010
The CoSign digital signature solution is implemented by AIG-Israel in an effort to improve their point of sale system and reduce their paper workflow. With deployment assistance from ARX, a leading digital signature company, the Israeli office of AIG, the world leaders in insurance and financial services, has maximized their workforce.
AIG-Israel decided to utilize an electronic form of document processing in the workflow of their mobile point of sales system. Replacing paper-based processing with an electronic data interface has several clear advantages: it is faster and cheaper than moving paper around, it can be traced within the system, and it maximizes the point of sale service experience.
The digital signature solution was required for capturing customer signatures on insurance policy documents when the sale was being made via their point of sales software (mainly in the customer's home). The signed documents are sent directly, by wire, to the central computer facility. These insurance documents are then processed and automatically stored in the imaging system. AIG-Israel chose CoSign for their digital signature needs due to its proven track record of flexible and comprehensive digital signature solutions and its ability to aid in SOX compliance.
"CoSign has reduced the time it takes for the organization to complete a sale by 50%," said Mr. Etzion Yatsiv, VP and Chief Information Officer, AIG-Israel. "By combining digital signature with mobile technologies and integrating them into our business process we were able to improve data accuracy, speed processing time, and reduce operational costs," added Mr. Yatsiv.
"In addition, as a Direct Marketing insurance company, we prefer to send our customers statements, publications, and other documentation by e-mail in PDF format. These electronic documents are authentically digitally signed to comply with directives of the Insurance Commissioner on data security. The availability of this channel for distributing electronic documentation in a safe and secure manner is cost effective and efficient," explained Mr. Yatsiv.
The CoSign digital signature solution deployed at AIG-Israel was integrated to work via a cellular connection, allowing the company's insurance agents the ability to sign their electronic documentation off-site via laptops. CoSign was also integrated with WonderNet's Wacom e-pads, which allowed agents to combine the captured graphical signatures of their customers with their own digital signatures in the same electronic document.
"Our deployment at AIG-Israel demonstrates the growing demand of digital signature solutions from industry-leading enterprises," said Raanan Dahari, Director of Sales, EMEA, ARX. "This digital signature solution highlights CoSign's ability to meet wide-ranging business needs."
About AIG-Israel
AIG-Israel is one of Israel's leading insurance companies, operating since 1997 under the joint ownership of Aurec and AIG. The company is licensed for general and life insurance activities. AIG Israel offers personal insurance (auto, home health), commercial insurance (including property, employer's liability, professional and director's liability), and life insurance. For more information visit http://www.aig.co.il.
About CoSign Digital Signatures
CoSign makes it easy to digitally sign transactions, documents, and records by embedding the standard signature technology directly into mainstream business applications. CoSign produces a signature record for every signature it captures. This Portable Signature Format (CoSign PSF™) allows anyone to seamlessly verify and retain proof of identity, intent, and document integrity without costly, complicated, or proprietary software. CoSign keeps your business running smoothly by fully automating and quickly scaling processes at a low cost and with proper controls. Learn more at http://www.arx.com/digital-signature-cosign.
About The Digital Signature Company - ARX
ARX (Algorithmic Research) is a global provider of cost-efficient digital signature solutions for industries such as life sciences, healthcare, government, and engineering. ARX engineers and scientists have more than 20 years of experience in security and standard digital signature application. ARX helps businesses secure, streamline, and scale their business processes and transactions with the proper controls required by legislation, regulation, and industry best practice. Visit us at http://www.arx.com.
CoSign is a registered trademark and CoSign PSF is a trademark of Algorithmic Research, Ltd. All other trade names and trademarks are the property of their respective holders.
###