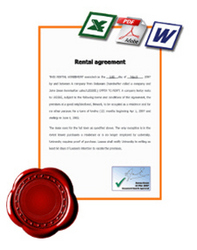 CoSign stands out in the field of digital signature solutions because of its ease of integration and the superior level of security it provides
San Francisco, California (PRWEB) February 13, 2008
ARX (Algorithmic Research), a leading provider of digital signatures (standard electronic signatures) and information assurance solutions, and Cerenade, a global provider of integrated electronic forms management solutions, today announced a partnership that enables all Cerenade E-forms to be digitally signed with CoSign® digital signatures.
The incentive for using electronic forms includes efficient, uniform collection and management of information within a business process, which also saves time and reduces costs when compared to paper-based processes. However, issues with complicated deployments and limited electronic-signing capacities have hindered the adoption of electronic forms for many organizations.
The partnership between ARX and Cerenade integrates the best that CoSign and Cerenade E-forms offer, to remedy the complicating factors that can limit the positive impact of electronic forms on business. The joint venture features the simplicity of Cerenade E-forms' web-based deployment and management, and CoSign's flexible digital signature capabilities--signing one or more sections of the form, without affecting other sections. In addition, CoSign provides the use of a graphical signature, so that each signed document maintains the familiar visual representation of a standard paper-based signature. Finally, CoSign signatures on a Cerenade E-form ensure proof of signer identity and intent, and preserve transaction integrity.
"Form-driven processes are a notably pervasive element in all business workflows. As such, their electronic counterparts (e-forms) can provide a cost-saving alternative that reduces the time and effort associated with paper-intensive procedures," explained Toby Bell, VP of Research, Gartner, Inc. "Digital signatures are a worthy addition to any process utilizing e-forms, in that they enable companies to maintain a fully electronic and secure workflow, and compel further reduction in the use of paper."
"Not only does Cerenade's electronic forms system make bringing forms online easy and affordable, it also enables electronic routing and dovetails perfectly with CoSign for online approvals," explained John Marchioni, VP of Business Development, Americas, ARX. "ARX is pleased to see our CoSign digital signature system integrated with this excellent solution for electronic forms management."
"CoSign stands out in the field of digital signature solutions because of its ease of integration and the superior level of security it provides," said Behdad Payami, VP Sales & Marketing and Co-Founder of Cerenade. "Moreover, CoSign's reputation in the marketplace and track record of success enhance the viability of Cerenade's E-form suite of solutions."
About Cerenade
Cerenade offers proven, enterprise-wide Integrated Forms Management Solutions to business, government and legal organizations. They offer cutting-edge forms technology and have successfully deployed their solutions enterprise-wide, including deployment of global and domestic retail and corporate locations. For more information on Cerenade, please visit http://www.cerenade.com/.
About CoSign®
The CoSign approach means digital signature standards and efficiencies across your operations. Signing and sealing documents with CoSign immediately expedites business processes, reduces costs, increases security and enables organizations to comply with diverse regional and industry regulations. CoSign works with all major applications and document formats including: Microsoft® Word, Excel®, Outlook®, Adobe® PDF, TIFF, AutoCAD®, InfoPath®, Lotus Forms, and many more). CoSign signatures are being used by hundreds of thousands of users in Enterprise, B2B and B2C processes, to learn why please see our white papers and product details at http://www.arx.com/products/cosign-digital-signatures.php.
About ARX (Algorithmic Research)
ARX has over 20 years of experience assisting banking, financial services, life sciences, healthcare, governmental organizations and commercial sectors to secure and streamline their business processes and transactions. ARX offers a wide range of highly scalable products designed to simplify, secure, and accelerate electronic business. ARX successfully completed its MBO acquisition from Cylink Corporation, today SafeNet, Inc. (NASDAQ:SFNT) in 2001.
For more information, please visit http://www.arx.com.
CoSign® is a registered trademark of Algorithmic Research, Ltd. All other trade names and trademarks are the property of their respective holders.
###