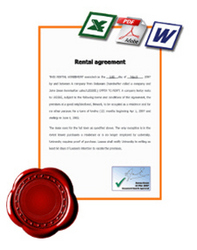 The integration between CoSign and SharePoint is comprehensive
Frankfurt, Germany (PRWEB) February 19, 2008
ARX (Algorithmic Research), a leading provider of digital signatures (standard electronic signatures) and Apsec, its German distributor, will be presenting at the Microsoft SharePoint Conference, in Frankfurt, Germany. At the conference, Apsec's CEO, Mr. Klaus Breitenbach, will be speaking about CoSign and SharePoint customer use cases. In addition to the speaking presentations, ARX will be presenting CoSign®, their digital signature solution, and its ability to seamlessly integrate with Microsoft Office SharePoint 2007.
The conference focuses on the latest innovations, features, and functionality for the Microsoft Office SharePoint 2007 integrated Office Suite and ECM solution. The conference also provides an opportunity for customers and partners in the German-speaking region (DACH) to meet and network with the Microsoft Office System product development teams, fellow professionals, and partners.
During the event, ARX and Apsec presentations will feature CoSign's cost-effective digital signatures solution, in combination with Microsoft Office SharePoint 2007. The CoSign and SharePoint integration enables multiple architectures to serve dispersed and mobile collaborations throughout an organization. Cosign has been tailored for the Microsoft application environment to allow users to digitally sign in Microsoft Office SharePoint 2007, Office 2000, 2003, 2007, SPS2003, InfoPath, Outlook, BizTalk, and ISO or Adobe PDFs. Further, CoSign plugs into the Microsoft management framework as a standard compatible system under Active Directory, Windows Kerberos, and the Microsoft Management Console (MMC). CoSign's centralized approach features web trusted certificates, a web service API based on OASIS DSS for custom Microsoft, and zero management of keys or certificates. The solution's net applications and the server-appliance options include a FIPS 140-2 Level 3 or IBM System x server.
In addition to standard digital signatures, CoSign also provides graphical signatures embedded into documents, along with the PKCS#7 digital signature block. Moreover, CoSign supports commonly used strong authentication devices, client and server software. These include RADIIUS-based OTP systems, USB tokens, Smart cards, and Biometrics devices. Support for mobile devices and software-only authentication solutions will be announced soon.
Microsoft partners providing Microsoft Office SharePoint business solutions in industries such as Life Sciences and Healthcare have successfully deployed integrated solutions with ARX's CoSign system. Zikria Syed, CEO of NextDocs Corporation, the leading document management software company for Microsoft SharePoint, explained that their reasoning behind utilizing CoSign was multifaceted, "NextDocs chose CoSign because its server-based client architecture matched our customers' mobile, web-based user environments." Syed added, "CoSign's intuitive API made integration quick and efficient and allowed us to meet our aggressive development deployment schedules supporting SharePoint Server. From the business perspective, our customers are very happy about the quick ROI payback period with CoSign."
The workflow-related integration between CoSign and SharePoint delivers high value for the joint customers, and meets the requirements of a digital signature solution, especially in Life Science and Health care markets" said Ruediger Dorn, Managing Director, Worldwide Pharmaceutical Industry, at Microsoft. "Our customers show a great deal of interest in the combined offering of SharePoint and a complete, out-of-the box digital signature solution" added Dorn.
"The integration between CoSign and SharePoint is comprehensive," said Dov Sharon, VP Business Development, Intl., ARX. "Signing and sealing documents created within Microsoft Office and SharePoint Server 2007 can immediately expedite business processes for any organization."
About CoSign®
The CoSign approach means digital signature standards and efficiencies across your operations. Signing and sealing documents with CoSign immediately expedites business processes, reduces costs, increases security and enables organizations to comply with diverse regional and industry regulations. CoSign works with all major applications and document formats including: Microsoft® Word, Excel®, Outlook®, Adobe® PDF, TIFF, AutoCAD®, InfoPath®, Lotus Forms, and many more). CoSign signatures are being used by hundreds of thousands of users in Enterprise, B2B and B2C processes, to learn why please see our white papers and product details at http://www.arx.com/products/cosign-digital-signatures.php.
About ARX (Algorithmic Research)
ARX has over 20 years of experience assisting banking, financial services, life sciences, healthcare, governmental organizations and commercial sectors to secure and streamline their business processes and transactions. ARX offers a wide range of highly scalable products designed to simplify, secure, and accelerate electronic business. ARX successfully completed its MBO acquisition from Cylink Corporation, today SafeNet, Inc. (NASDAQ:SFNT) in 2001.
For more information, please visit http://www.arx.com.
CoSign® is a registered trademark of Algorithmic Research, Ltd. All other trade names and trademarks are the property of their respective holders.
# # #