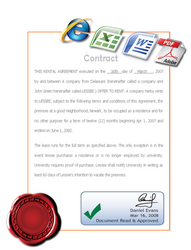 The I-9 forms are now completed online and electronically signed by both employee (new hire) and employer (client manager), using digital signatures provided by CoSign. In addition to the cost and time savings for MAXIMUS and our clients, the CoSign solution gives us a competitive advantage in our increasingly competitive marketplace
San Francisco, California (PRWEB) March 24, 2008
IBM®, the global leader in information technology innovation, and ARX Inc. (Algorithmic Research), a leading global provider of digital signature (standard electronic signature) solutions, today announced that the CoSign® digital signature system has been qualified for use with IBM Lotus® Forms V3.0. The combined capability delivers eForms' efficiencies and the security and standards of digital signatures to users of forms-driven applications.
Based on the XForms standard developed by the W3C, Lotus Forms deliver a flexible, easy-to-use front-end for business process automation that makes the benefits of eForms available via the web. The open architecture of Lotus Forms allows quick and easy integration with the CoSign digital signature solution and will also enable customers to deploy flexible electronic-forms applications that fit naturally into any Enterprise, B2B, and B2C environment.
"Many of our customers understand the benefits of becoming paperless but have concerns about the lack of information integrity in web-based processes that could interrupt the flow of their business, or fail to meet audit and regulatory requirements," stated Grace Tseng, Director of Business Development for IBM Healthcare and Life Sciences.
"Standard digital signatures alleviate these concerns, and the ARX CoSign approach is among the best we have seen for delivering this capability effectively, ensuring a measurable ROI every year after its deployment."
By sealing the web transactions in a manner that also provides proof of the signer's intentions, CoSign digital signatures give Lotus Forms users additional confidence needed to deploy web-based processes that may cross their corporate boundaries. Since eForms are signed digitally, CoSign also ensures all process steps remain electronic -- there is no need to print before signing. In addition, CoSign signatures can be verified anywhere, and anytime in the future, guaranteeing the signed eForm will meet records-retention and audit requirements.
CoSign's integration within Lotus Forms also enables customers to comply with diverse regulations worldwide, including the U.S. FDA 21 CFR Part 11, HIPPA, SOX, the US E-Sign and UETA acts, and the EU Directive for Electronic Signatures. Once a document is signed, the signer cannot deny his/her digital signature, and the document has legal effect.
"We are seeing a growing global demand for standards in electronic forms solutions," stated John Marchioni, VP Business Development at ARX. "The standards delivered by Lotus Forms and CoSign enable businesses processes to be effectively and securely extended outside traditional corporate boundaries, further increasing the enterprise's collaborative output and competitive advantage."
MAXIMUS Workforce Management Division processes over 1,000,000 I-9 Forms every year for employers in the US. I-9 processing is regulated by the Department of Homeland Security and the Social Security Administration, and under a US law made effective in 2005, I-9 forms may be signed and managed electronically. "The I-9 forms are now completed online and electronically signed by both employee (new hire) and employer (client manager), using digital signatures provided by CoSign. In addition to the cost and time savings for MAXIMUS and our clients, the CoSign solution gives us a competitive advantage in our increasingly competitive marketplace," says Nancy Kim, Vice President, MAXIMUS.
About CoSign®
The CoSign approach means digital signature standards and efficiencies across your operations. Signing and sealing documents with CoSign immediately expedites business processes, reduces costs, increases security and enables organizations to comply with diverse regional and industry regulations. CoSign works with all major applications and document formats including: Microsoft® Word, Excel®, Outlook®, Adobe® PDF, TIFF, AutoCAD®, InfoPath®, Lotus Forms, and many more). CoSign signatures are being used by hundreds of thousands of users in Enterprise, B2B and B2C processes, to learn why please see our white papers and product details at http://www.arx.com/products/cosign-digital-signatures.php.
About ARX (Algorithmic Research)
ARX has over 20 years of experience assisting banking, financial services, life sciences, healthcare, governmental organizations and commercial sectors to secure and streamline their business processes and transactions. ARX offers a wide range of highly scalable products designed to simplify, secure, and accelerate electronic business. ARX successfully completed its MBO acquisition from Cylink Corporation, today SafeNet, Inc. (NASDAQ:SFNT) in 2001.
For more information, please visit http://www.arx.com.
CoSign® is a registered trademark of Algorithmic Research, Ltd. All other trade names and trademarks are the property of their respective holders.
###