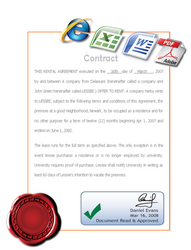 Northwest Aerospace Technologies' implementation of CoSign is a wonderful example of a how a digital signature can allow a company with extensive paper-based processes to significantly expedite their workflow, and securely collaborate with 3rd parties, without eliminating any of the necessary procedural approvals
San Francisco, CA (PRWEB) March 27, 2008
ARX (Algorithmic Research), a leading provider of digital signature (standard electronic signature) solutions, has implemented a CoSign® digital-signature solution at Northwest Aerospace Technologies (NAT), an engineering services company specializing in commercial aircraft modification programs.
Previous to their implementation of the CoSign digital signature solution, NAT's Engineering department routed a substantial number of paper drawings as part of their quality check process. Each drawing required up to 6 signatures and often needed to be routed between NAT's two facilities in Washington and Montana. After signatures were acquired, the document was scanned and emailed to the customer for approval. In order to eliminate the reliance on paper and expedite their quality check process, NAT decided to implement a digital signature solution. In addition to requiring their files to be portable between organizations, the digital signature solution needed to be deployable off-the-shelf, globally verifiable over time, and easily integrated with NAT's Active Directory. Having met all of their specifications, CoSign was chosen for implementation.
"CoSign's simplicity is its strongest selling feature," said Jeremy Reed, Information Technologies Manager, NAT. Jeremy continued, "The seamless integration with our network and the intuitive operation speak to the strength of the ARX engineering team."
Since their deployment of the CoSign digital signature solution, NAT has overhauled their approval procedure, turning a multiple day process into one that can be completed in hours. In fact, the success that the Engineering department has had with CoSign was so great, that NAT has also implemented CoSign in its Purchasing department, reducing the number of times the same invoice has to be printed from 5 to 2. Additionally, NAT is in the process of deploying CoSign in its Marketing and Program Management departments.
"Northwest Aerospace Technologies' implementation of CoSign is a wonderful example of a how a digital signature can allow a company with extensive paper-based processes to significantly expedite their workflow, and securely collaborate with 3rd parties, without eliminating any of the necessary procedural approvals," explained Sam Aviram, Sales Manager, ARX, Inc.
About Northwest Aerospace Technologies
Northwest Aerospace Technologies (NAT) is an engineering services company specializing in commercial aircraft modification programs requiring FAA/EASA/Foreign Regulatory Agency approval and the development of highly engineered proprietary products. Principally, NAT provides integration management for major aircraft modification programs involving multiple suppliers and develops engineering, modification parts kits, certification documentation and FAA/EASA certification for major alterations.
For more information please visit http://www.nat.aero/ .
About CoSign®
The CoSign approach means digital signature standards and efficiencies across your operations. Signing and sealing documents with CoSign immediately expedites business processes, reduces costs, increases security and enables organizations to comply with diverse regional and industry regulations. CoSign works with all major applications and document formats including: Microsoft® Word, Excel®, Outlook®, Adobe® PDF, TIFF, AutoCAD®, InfoPath®, Lotus Forms, and many more). CoSign signatures are being used by hundreds of thousands of users in Enterprise, B2B and B2C processes, to learn why please see our white papers and product details at http://www.arx.com/products/cosign-digital-signatures.php.
About ARX (Algorithmic Research)
ARX has over 20 years of experience assisting banking, financial services, life sciences, healthcare, governmental organizations and commercial sectors to secure and streamline their business processes and transactions.
For more information, please visit http://www.arx.com.
CoSign® is a registered trademark of Algorithmic Research, Ltd. All other trade names and trademarks are the property of their respective holders.
###