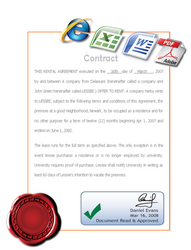 This advancement will enable companies to implement the strong user identity in the credentialing model put forth by SAFE-BioPharma, with the affordable, secure, and easy-to-use CoSign solution that eliminates client side tokens, smartcards, and software
San Francisco (PRWEB) May 5, 2008
ARX (Algorithmic Research), the leading provider of digital signature solutions (standard electronic signatures) to the life sciences and healthcare industries, today announced that it has become a vendor partner of SAFE-BioPharma Association, the non-profit that manages the SAFE-BioPharma™ digital identity and signature standard for the pharmaceutical and healthcare industries.
Recent changes in the criteria maintained by SAFE-BioPharma now permit SAFE-BioPharma member companies to deploy centralized server-based PKI digital signature solutions, such as ARX's CoSign digital signature solution. ARX's CoSign is the most widely used digital signature technology in the industry. With CoSign, SAFE-BioPharma user credentials can be accessed centrally from a network, or web portal, and utilized for signing from any location at any time.
"This advancement will enable companies to implement the strong user identity in the credentialing model put forth by SAFE-BioPharma, with the affordable, secure, and easy-to-use CoSign solution that eliminates client side tokens, smartcards, and software," explained Rodd Schlerf, Life Sciences and Healthcare Manager, ARX.
"We are pleased to welcome ARX to the SAFE-BioPharma Vendor Partner Program," said Mollie Shields-Uehling, CEO, SAFE-BioPharma Association.
About SAFE-BioPharma Association
SAFE-BioPharma Association is the non-profit association that created and manages the SAFE-BioPharma™ digital identity and signature standard for the pharmaceutical and healthcare industries. The SAFE-BioPharma industry standard is used to mitigate legal, regulatory and other business risk associated with business-to-business and business-to-regulator electronic transactions. It facilitates interoperability by providing a secure, enforceable, and regulatory-compliant way to verify identities of parties involved in electronic transactions. SAFE-BioPharma's vision is to be a catalyst in transforming the biopharmaceutical and healthcare communities to a fully electronic business environment by 2012. The Association's members include Amgen, AstraZeneca, Bristol-Myers Squibb, Genzyme, GlaxoSmithKline, Johnson & Johnson, Merck, Pfizer, Procter & Gamble, Roche and Sanofi-Aventis. For more information, visit http://www.safe-biopharma.org.
About CoSign®
The CoSign approach means digital signature standards and efficiencies across your operations. Signing and sealing documents with CoSign immediately expedites business processes, reduces costs, increases security and enables organizations to comply with diverse regional and industry regulations. CoSign works with all major applications and document formats including: Microsoft® Word, Excel®, Outlook®, Adobe® PDF, TIFF, AutoCAD®, InfoPath®, Lotus Forms, and many more). CoSign signatures are being used by hundreds of thousands of users in Enterprise, B2B and B2C processes, to learn why please see our white papers and product details at http://www.arx.com/products/cosign-digital-signatures.php.
About ARX (Algorithmic Research)
ARX has over 20 years of experience assisting banking, financial services, life sciences, healthcare, governmental organizations and commercial sectors to secure and streamline their business processes and transactions.
For more information, please visit http://www.arx.com.
CoSign® is a registered trademark of Algorithmic Research, Ltd. All other trade names and trademarks are the property of their respective holders.
###