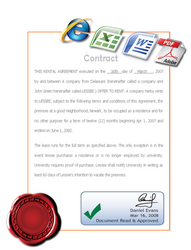 Combining CoSign's digital signatures with the mature and proven Public Key Infrastructure (PKI) technology ensures the signer authenticity, data integrity, and non-repudiation of the thousands of eInvoices TNT handles monthly in its dealings with airlines, cargo agents, and forwarders
San Francisco (PRWEB) May 27, 2008
ARX (Algorithmic Research), a leading global provider of digital signatures (standard electronic signatures) and information assurance solutions, has implemented a CoSign® digital-signature solution at the Israeli branch of TNT Express, a business-to-business express delivery services provider.
CoSign, ARX's non-forgeable, standards-based digital signature solution, is being used by TNT to digitally sign eInvoices in PDF format. CoSign allows the organization to expedite their internal processes, ensuring that the express delivery service's eInvoicing process doesn't become a hindrance to the workflow.
"Combining CoSign's digital signatures with the mature and proven Public Key Infrastructure (PKI) technology ensures the signer authenticity, data integrity, and non-repudiation of the thousands of eInvoices TNT handles monthly in its dealings with airlines, cargo agents, and forwarders," says Ari Seror, Director of Professional Services, ARX.
TNT utilizes CoSign's batch conversion and signing capabilities, allowing it to swiftly and easily process their numerous eInvoices. Upon approval of the financial data, CoSign is triggered to convert the centrally-produced eInvoice into a PDF document, which it then signs using the CoSign Signature tool.
To date, TNT has expedited its business processes significantly, turning an invoicing process of hours into seconds. This advancement has led to the efficient and timely processing of hundreds of tons of cargo in Israel and around the world.
About CoSign®:
The CoSign approach means digital signature standards and efficiencies across your operations. Signing and sealing documents with CoSign immediately expedites business processes, reduces costs, increases security and enables organizations to comply with diverse regional and industry regulations. CoSign works with all major applications and document formats including: Microsoft® Word, Excel®, Outlook®, Adobe® PDF, TIFF, AutoCAD®, InfoPath®, Lotus Forms, and many more). CoSign signatures are being used by hundreds of thousands of users in Enterprise, B2B and B2C processes, to learn why please see our white papers and product details at arx.com/products/cosign-digital-signatures.php.
About ARX (Algorithmic Research):
ARX has over 20 years of experience assisting banking, financial services, life sciences, healthcare, governmental organizations and commercial sectors to secure and streamline their business processes and transactions.
For more information, please visit arx.com.
CoSign® is a registered trademark of Algorithmic Research, Ltd. All other trade names and trademarks are the property of their respective holders.
###