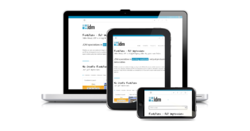 The inspiration for the new website design was 'Simplicity in Action'.
Dallas, TX (PRWEB) July 16, 2012
JDM ( http://jdm-digital.com ), a Dallas-based digital agency specializing in branding, design, and web technology development, has been nominated for an Awwward website award in the very competitive Agency category. The Awwwards recognizes and promotes the best designers, developers and digital agencies in the world.
"It's cliché to say it, but we're just flattered to be nominated," remarks Justin Downey, Founder and President of JDM. "We worked very hard refining our message, our Brand and our service offering. The new website is designed to communicate our message to our audience quickly and in a simple, but memorable way."
The website features a responsive layout (resize your browser to see it in action) built on the flexible 960 grid system with CSS3 transitions with some powerful and beautiful functions powered by jQuery.
"The inspiration for the new design was 'Simplicity in Action'," explains JDM Creative Director, Jenee Oxley-Echard. "To go along with the new 'We Create Reactions' messaging, the site had to reflect that in a very minimalist design at first glance but with a lot of interesting facets and folds just beneath the surface. The more visitors browse the site (perhaps on different mobile, tablet and desktop devices), the more they discover and the more memorable the experience."
JDM will be posting the results of the competition on their Shameless News blog (http://jdm-digital.com/news/) once they're announced.
ABOUT JDM DIGITAL
JDM is a Digital Agency specializing in branding, design and web technology development services that create reactions - not just impressions.
Don't forget to vote at: http://www.awwwards.com/best-websites/jdm-digital-agency
ABOUT THE AWWWARDS
Awwwards are the awards that recognize and promote the talent and effort of the best developers, designers and web agencies in the world.
An international jury, made up of some of the most important designers, bloggers and Internet agencies, will evaluate each site by means of a strict system of evaluation scoring them on a scale of 1 to 10 for their Design, Creativity, Usability and Content. More at: http://www.awwwards.com .