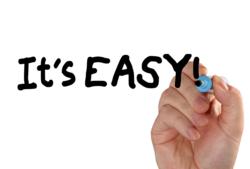 thus alleviating annuity advisors from a "Shipload" of problems
Atlanta, GA (PRWEB) May 21, 2013
Today, the average independent retirement advisor spends countless amounts of money overnighting their annuity applications to their respective insurance carriers. Many times, these apps are sent to a 3rd party back office that "scrubs" the application for the advisor and then has to pay for another overnight to get the application back to the insurance company.
And even with two sets of eyes on the cumbersome annuity applications of today, up to 30% of the applications in a given month are not in good order for many of the popular carriers. In many cases where the annuity application is not in good order, the annuity advisor is forced to have new forms signed while looking like a novice in front of his or her client.
Retirement Income Network's electronic annuity application process solves both of the problems thus alleviating annuity advisors from a "Shipload" of problems. The creative team at RIN Marketing even created a humorous video of just a few places that you could actually ship your annuity applications from.
For more details on how to become a member of Retirement Income Network and get access to this exciting digital technology, contact RIN here.
About Retirement Income Network
Retirement Income Network - also known as "RIN Marketing" - is an exclusive, membership only, digital marketing organization that caters exclusively to the nation's most successful retirement advisors. We have coined the term "Six-Figure Marketing Plan with a Money Back Guarantee" to accurately describe the marketing platforms that we arm each of our exclusive members with. Our membership is based on a solemn commitment from both RIN and the retirement advisor, and being a part of this elite "Network" is bigger than just growing your practice. It is about changing the rules to how the marketing game is played. It is about breaking out of the marketing box that most financial professionals have put themselves in. As we quickly turn you into a "Celebrity" among your peers, clients, and prospects, it is no wonder why this incredibly fast growing network is revolutionizing the way retirement advisors do business.