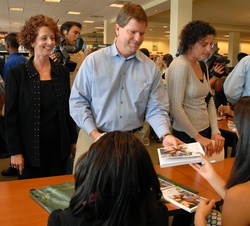 This was such an eye-opening experience for me
BOCA RATON, Fla. (PRWEB) October 22, 2007
To help inspire young writers, Oce North America, a leading provider of digital document management and delivery solutions, created this free program, offered in partnership with the School District of Palm Beach County, Barnes & Noble, Maroone, an AutoNation Company, and other local partners. During the workshop, the students learned about writing, editing, and digital book publishing. Instruction was provided by certified teachers, with additional insight provided by Oce executives and by published authors, James O. Born, Jonathon King, Dr. Brian Latell, and Mark Tomback.
"No Such Thing as Writer's Block: Creative Works by the Next Generation of Authors", which includes a compilation of the student's writings, was printed and digitally published by Oce North America on the Oce Digital Book Solution, a combination of Oce VarioStream(R) printers and Oce PRISMA(TM) workflow software. The book is now on sale at Barnes and Noble book stores throughout Palm Beach County and on http://www.barnesandnoble.com.
"It was thrilling to see my work in a formal format and on paper," said Bryan, who was inspired to be a writer in the seventh grade after reading J. K. Rowling's Harry Potter books.
"This was such an eye-opening experience for me," added Collier. "I especially enjoyed the opportunity to meet so many published authors."
Oce executives predict that digital book printing and publishing technology like the Oce Digital Book Solution will open up more publishing opportunities for aspiring writers like the students. "Digital printing technology is revolutionizing book publishing and fueling trends like self-publishing in run lengths from one to 10,000. This creates exciting opportunities for new talent -- like these young, aspiring authors -- to pursue their dreams of getting their works published, while bringing a rich diversity of titles to market for all of us to enjoy. As a leader in providing digital printing solutions for the book industry, Oce is proud to support the Future Authors Project and to help make children's' dreams a reality," said Oce Senior Director of Marketing Services Sheryl Pattek.
School District of Palm Beach County Board Member Mark Hansen sees this program as a model for successful private/public partnerships. "Thanks to support from companies like Oce, Barnes & Noble, and Maroone, our students participated in what could be a life-changing experience. It's proof of what can be done when the community works together for the good of our students."
For more information about the Oce Future Authors Project, visit http://www.oceusa.com/futureauthors.
About Oce
Oce N.V. (NASDAQ:OCENY) is a leading provider of digital document management technology and services. The company's solutions are based on Oce's advanced software applications that deliver documents and data over internal networks and the Internet to printing devices and archives -- locally and around the world. Supporting the workflow solutions are Oce digital printers and scanners, considered among the most reliable and productive in the world. Oce also offers a wide range of display graphics, consulting and outsourcing solutions.
Oce employs around 24,000 people, with 2006 annual revenues of approximately $4 billion, operates in approximately one hundred countries and maintains research and manufacturing centers in the Netherlands, the United States, Canada, Germany, France, Belgium, the Czech Republic, and Romania. Oce North America is headquartered in Trumbull, CT, with additional business units in Chicago, IL; New York City; Boca Raton, FL; Salt Lake City, UT; Coventry, RI; and Vancouver, BC. North American revenues were approximately $1.7 billion for fiscal 2006, and employment is currently 11,000. For more information about Oce, visit http://www.oceusa.com. Outside the U.S., consult http://www.oce.com.
"Oce PRISMA" is a trademark and "Oce VarioStream," "Oce" and the Oce logo are registered trademarks of Oce-Technologies B.V. All products and company names are trademarks or registered trademarks and are the property of their owners and are respectfully acknowledged.