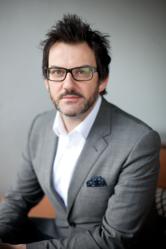 New York, New York (PRWEB) July 11, 2012
Razorfish, one of the world's fastest growing digital agencies, announced today that Daniel Bonner, 39, has been promoted to global chief creative officer, a new position for the agency. Bonner will report to Bob Lord, global CEO of Razorfish, and serve on the agency's Global Executive Team alongside Ray Velez, chief technology officer, and Jeff Lanctot, chief media officer. Previously, Bonner was chief creative officer for the Razorfish offices outside of the U.S.
"For years, Razorfish has been at the bleeding edge of the media and technology revolutions," said Lord. "But 'creative' hasn't really gone through an analogous reinvention. We fervently believe that's going to change under Daniel's leadership. His impact on our work has been evident from his first day as a Fish."
"The role that creativity plays in progressing our clients' businesses has never been more profound," said Bonner. "Razorfish strongly believes that the technology that inspires new answers to age old problems and the media that delivers a genuine impact is highly dependent on creativity that goes beyond mere messaging. This three-pronged, egalitarian approach is precisely what clients can expect when they collaborate with Razorfish."
Bonner joined Razorfish in September of 2011 after spending 14 years at AKQA. During that time, he held various positions in the agency's creative department, culminating as chief creative officer where he led the creative output of the agency across the European offices in London, Amsterdam and Berlin. In 2010, Bonner was recognized as the U.K.'s number one digital creative director by Campaign and invited into the Royal Society of Arts as a Fellow in recognition of his contributions to the industry. In his new post, Bonner will oversee Razorfish's global creative vision; championing ideas that build brands, and content that incites consumers to engage.
"At Razorfish, we firmly believe that the interaction of creative, media and technology is essential to great marketing," said Lord. "Our most successful programs as an agency – those that drive the biggest ROI for our clients – happen when these three disciplines work together seamlessly. Daniel has been an absolutely essential component to ensuring we deliver that mix to our clients."
Prior to his time at AKQA, Bonner was an Art Director at Taybrun, a creative design consultancy with offices in Edinburgh, Manchester and Istanbul. He attended Edinburgh College of Art where he received a First Class B.A. with Honors in Visual Communications. Bonner will remain operating out of Razorfish's London's office.
About Razorfish
Razorfish, the highest ranked digital agency in Advertising Age's 2011 A-List, creates experiences that build businesses. As one of the largest interactive marketing and technology companies in the world, Razorfish helps its clients build better brands by delivering business results through customer experiences. Razorfish combines the best thought leadership of the consulting world with the leading capabilities of the marketing services industry to support our clients' business needs, such as launching new products, repositioning a brand or participating in the social world. Razorfish has offices in markets across the United States, and in Australia, Brazil, China, France, Germany, Japan and the United Kingdom. Clients include Mercedes, Unilever and McDonald's. With sister agencies Starcom MediaVest, ZenithOptimedia, Denuo and Digitas, Razorfish is part of Publicis Groupe's (Euronext Paris: FR0000130577) VivaKi, a global digital knowledge and resource center. Visit http://www.razorfish.com for more information. Follow Razorfish on Twitter at @razorfish.