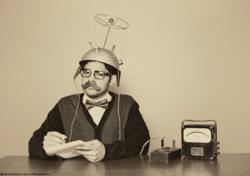 I have made this parody application to give fellow zealots of digital health a good laugh.
San Francisco, CA (PRWEB) May 01, 2013
MichaelRucker.com, a website about behavior change innovation and technology, announces the launch of a digital health product name generator. The market research firm Frost & Sullivan recently reported there were roughly 17,000 health-related applications for mobile devices in 2011. In 2013, there are now approximately 20,000 products and applications. In March of this year digital health company Fitbug filed a lawsuit against Fitbit (Fitbug Limited v. Fitbit, Inc, 5:2013cv01418) in part due to trademark infringement claiming brand similarities. In the current mHealth environment picking the right product name, ensuring product differentiation and standing out from the sea of available products has never been more important and challenging.
The new digital health product name generator located at MichaelRucker.com is free to use by anyone and is available without a membership. With one click of a button the generator will provide users a possible name for their digital health product. If a given name is deemed unacceptable, the user can simply press the "innovate" button again and a new digital health product name will be created.
"I have made this parody application to give fellow zealots of digital health a good laugh," says MichaelRucker.com site creator Mike Rucker. "When speaking with others in the digital health space about the proliferation of new devices and apps it is clear product branding has becoming increasingly difficult. My hope is this silly little webpage will draw in like-minded digital health enthusiasts for a little humor regarding how tricky coming up with an original product name has become in our space."
Along with the digital health product name generator MichaelRucker.com is also launching a wellness innovation catalog which houses current information about the latest digital health products. The site's creator hopes the evolution of MichaelRucker.com will provide a conduit to connect with others interested in digital health, mHealth and wellness innovation.
MichaelRucker.com is a website focused on sustainable behavior change through innovation as well as personal health information technology (pHIT). The website is maintained by Michael Rucker who is a blogger with a passion for health and wellness, behavior change, biometrics, technology, and self-tracking.