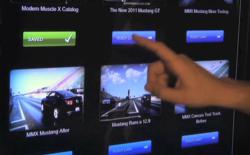 Bottom line: marketing effectiveness is increased while literature costs are decreased
Austin, TX (Vocus/PRWEB) March 03, 2011
SmartSource Computer & Audio Visual Rentals (Hauppauge, NY), one of the nation's leading providers of computer, audio visual (AV) and trade show technology rentals and services, announced a new partnership with Sparksight, Inc. of Austin, Texas to resell the company's innovative Digital Kiosk Technology, Leading Reach. "Our experience with Sparksight and Leading Reach to date has been second to none. The people are great and their technology allows us to break into new markets and accounts by delivering a unique solution that delivers on the promise of a new and impressive way to present and distribute collateral at events. As important to us at SmartSouce is the fact that this solution provides a wow experience and attracts attendees to the exhibitors through the use of touch screen kiosks and large LCD Monitors, iPads, tablets and more!" says Steve Shatsoff, Senior Vice President of Regional Sales and Trade Shows at SmartSource.
Curtis Gattis, Chief Performance Officer at Sparksight commented, "As we continue to bring this technology to market we are looking for a few strategic partners that have a nationwide presence and understand the value of our solution for the enterprise. SmartSource Rentals is the perfect fit for that criteria, with offices across the U.S. and an international reach, SmartSource has been able to close deals for us that would probably take us years to close by ourselves. Plus, their technology experts truly "get it" and have been able to incorporate this complex technology into their offerings in a very short amount of time. I have already introduced SmartSource to a number of my customers and they are a very strategic part of our offering and go-to-market strategy."
Key Highlights
Better Booth Traffic and Lead Quality. Leading Reach™ kiosk can be delivered on everything from 60" touch screens to iPhones and mobile devices. "One customer had 2 touch screens and three tablet PCs all running the kiosk experience in the same booth and they claimed an 850% increase in captured leads year-over-year at the same event," added Shatsoff.
All-in-one solution: revolutionary lead capture and qualification capabilities, instant content distribution and real-time metrics
Portable kiosks: can be placed in various areas around the show floor or lobby; staffed or stand-alone; touch screen, tablet, iPad or mobile device
Instant access: users actively request and allow instant delivery of literature based on their interests via any web-enabled device
Relevant metrics: organizers get real-time data for tracking customer interests and leads
Exhibitor ease: exhibitors upload literature via step-by-step wizard and receive real-time leads
Leading Reach™ combines the best practices of lead capture, content management and web-delivery of experiences and content into a turn-key event solution. Leading Reach Kiosks integrate with show badges of any type, users browse and select videos and collateral, and confirm their contact information so that content can be emailed to them immediately, while the exhibitors and show organizers receive that data and feedback real-time. "Leading Reach was developed to help show organizers and exhibitors capture more leads and do so more efficiently. In addition to capturing a greater total number of leads, Leading Reach allows Marketing Organizations to deliver HIGHER QUALITY leads to the Sales Organization by identifying the leads that are actually interested in a particular product or offering, and delivering that information to Sales in real-time so that follow-ups are more timely and effective." according to Curtis Gattis, Chief Performance Officer of Sparksight.
About SmartSource Computer & Audio Visual Rentals
Founded in 1984 and formerly known as Rent-a-PC, Inc., SmartSource Computer & Audio Visual Rentals serves broad-based corporate IT, association, professional AV and trade show technology rental needs. The company is widely recognized for its outstanding customer service, technical expertise, geographic reach, breadth of product, and end-to-end solution. Its extensive line features brand name products from Apple, Dell, HP/Compaq, IBM, NEC, Eiki, Meyer, Stumpfl, and others. Among its products are computers, servers, copiers, professional AV equipment, LCD and plasma monitors, kiosks, digital signage and video walls. SmartSource employs over 250 including over 100 field technicians. Its 24 strategic locations are in: Anaheim, CA; Atlanta, GA; Boston, MA; Chicago, IL; College Station, TX; Dallas, TX; Englewood Cliffs, NJ; Eugene, OR; Ft. Lauderdale, FL; Houston, TX; Las Vegas, NV; Long Island, NY; Los Angeles, CA; New Orleans, LA; New York, NY; Orlando, FL; Philadelphia, PA; Phoenix, AZ; San Diego, CA; San Francisco, CA; Seattle, WA; St. Louis, MO; Sunnyside, NY; and Washington, DC. Kirtland Capital Partners, a private equity firm in Cleveland, Ohio, holds a majority interest in SmartSource Rentals. For more information, visit: http://www.smartsourcerentals.com or call: (800) 888-8686.
About Sparksight Inc.
Based in Austin, Sparksight is a design firm that is focused on delivering results that inspire audiences and have a measurable impact for our clients. Sparksight's mission is to connect people, places, and ideas through the combination of carefully selected technology and great design. Sparksight helps clients reach their most important audiences around the world to transform experiences, processes and lives. Whether your focus is a live event or on the web, Sparksight is ready to help you deliver an unforgettable experience that truly connects with your customers. For more information, visit: http://www.sparksight.com or call: (800) 457-0905.
###