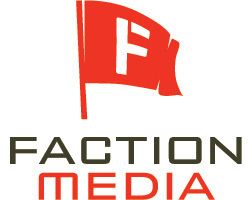 This program provided an on-ramp for our partners; a way for them to not only become subject matter authorities, but high-performance digital marketers.
Denver, CO (PRWEB) June 1, 2010
When the Business Marketing Association recently announced its 2010 Gold Key Award winners, Faction Media and Avaya were recognized for the excellence and innovation demonstrated in their channel marketing and empowerment program.
The Avaya Partner Marketing Knowledge Program is the leading tool in an overall effort by Avaya to focus on channel partners and empower them to effectively market Avaya products and services to their customers.
Faction Media, a full-service digitally led communications agency and Avaya strategic marketing partner, worked with the global communications leader to build the program, which focuses on educating and supporting Avaya Business Partners with the strategy and tools they need to generate leads, engage their customers and build valuable relationships.
"The Partner Marketing Knowledge Program that Faction developed for Avaya has been instrumental in increasing the marketing know-how and savvy that our channel partners need to be successful selling in today's marketplace," said Patti Moran, Senior Director of Worldwide Channel Marketing for Avaya. "The program's curriculum is structured to give partners valuable insight into how to create a sound marketing strategy—then implement that strategy with the latest, most effective marketing tactics."
Working closely together, Faction and Avaya created a variety of tools and resources that were made available through a dedicated online partner portal. The program provides detailed coaching to Avaya channel partners on how to develop and implement a fully integrated marketing strategy, a training session and educational webinars, and a library of tactical Quick Start Guides. The Quick Start Guides present a comprehensive curriculum of traditional and digital marketing subjects ranging from the planning and management of successful online advertising campaigns and search engine marketing programs to building effective social media strategies for business.
"The Avaya business partner companies understand the evolution that has been taking place in their markets." Said Faction Media Founder and Partner Aaron Batte. "They are now carefully moving digital engagement toward the center of their marketing strategies, rethinking their priorities and budgets, and substantially reshaping their sales processes and skills to connect with customers—the Partner Marketing Knowledge Program that Faction created helps them accelerate that process."
Describing the planning and strategy behind the program, Moran explained, "One of the crux issues that our partner community is currently maneuvering through is proliferation—we all know by now that the marketing landscape has been dramatically transformed by technology, media segmentation and expanding distribution channels and it continues to change at a blistering pace. This program provides and on-ramp for our partners; a way for them to not only become subject matter authorities, but high-performance digital marketers."
About Faction Media:
Faction Media is a full-service digitally led communications agency that helps clients compete, evolve and grow in an increasingly complex and fragmented marketplace. Faction provides digital strategy, audience insight, creative services, interactive development, search marketing, performance analytics and marketing optimization to Fortune 1000 companies including some of the largest and most innovative businesses in the world.
Faction Media's Unified Marketing™ approach combines new and evolving interactive tools with traditional channels to identify, build and execute the most effective and successful brand and demand generation campaigns. A commitment to performance accountability, technology, and creative innovation has defined Faction's place as a leader in business-to-business communications and marketing.
For more information on Faction Media visit factionmedia.com
About Avaya:
Avaya is a global leader in enterprise communications systems. The company provides unified communications, contact centers, data solutions and related services directly and through its channel partners to leading businesses and organizations around the world. Enterprises of all sizes depend on Avaya for state-of-the-art communications that improve efficiency, collaboration, customer service and competitiveness.
For more information please visit http://www.avaya.com.
###