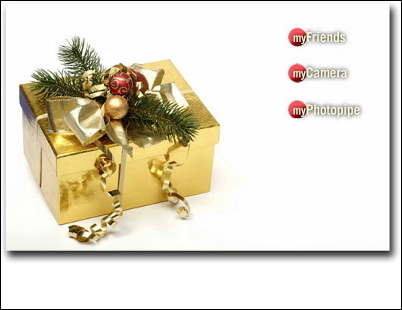 Atlanta, GA (PRWEB) November 20, 2006
myPhotopipe.com, Inc. (OTC: MPPC) today released data that taken together suggest that this years' holiday season may be a record one for digital photo processors and that photographic gifts created from digital photos will appear in record numbers under Christmas trees across the nation.
According to myPhotopipe.com, an online photo processor for owners of digital cameras, in the first four weeks of the holiday selling season the Company's web site registered a surprisingly strong 15% growth over September traffic and an even more impressive growth in page views, up 61%. More telling -- between October 1st and November 15th, a record breaking 16,320 new users bookmarked or registered for company services. Also up were first time orders from new customers. Revenues in October were nearly double that of a year ago at a run rate of $1,296,000 (http://www.myphotopipe.com).
While the company doesn't break out product-specific data, October downloads for the software used to create photo book were exceptionally strong as were early shipments of photo greeting cards. Also up were sales of the high-margin photo enlargements, a signature product for the Company.
The Company attributed the October results partly to the previously announced partnerships with the National Association of Photoshop Professionals and Shutterbug Magazine but largely to the growing popularity of photo prints. Advances in digital cameras have helped more photographers make an extraordinary photograph which, in turn, stimulates an interest in turning that photograph into a print, wall art, framed prints, or photo books.
The Company's web traffic suggests photographic products will appear in record numbers under Christmas trees across the nation and that this holiday season will be exceptionally strong one for online services.
myPhotopipe.com is an Web 2.0 service that processes digital photos into photographic prints. The Company offers more than 100 print options, online photo sharing, photo books, framed prints, and other photographic products. The Company serves the serious amateur/professional photographer segment of the $7 billion print processing industry.
Safe Harbor statement:
Information provided by myPhotopipe.com contains forward-looking statements that involve risks, uncertainties, assumptions and other factors, which, if they do not materialize or prove correct, could cause myPhotopipe.com's results to differ materially from historical results, or those expressed or implied by such forward-looking statements. All statements, other than statements of historical fact, are statements that could be deemed forward-looking statements, including statements containing the words "planned," "expects," "believes," "strategy," "opportunity," "anticipates," and similar words. These statements may include, among others, plans, strategies and objectives of management for future operations; any statements regarding proposed new products, services or developments; any statements regarding future economic conditions or performance; statements of belief; and any statements of assumptions underlying any of the foregoing. The potential risks and uncertainties may include, but are not limited to, competition; potential capital needs; management of future growth and expansion; customer acceptance of the Company's products and fee structures; the success of myPhotopipe.com's brand development efforts; risks associated with strategic alliances; reliance on distribution channels; need to develop new and enhanced products; myPhotopipe.com's ability to hire and retain qualified employees and key management personnel; and risks associated with changes in domestic and international market conditions. myPhotopipe.com assumes no obligation to update any forward-looking statement to reflect events or circumstances arising after the date on which it was made.
L. Douglas Keeney, CEO
1670 Northeast Expressway
Atlanta, GA 30328
502-419-5837
###