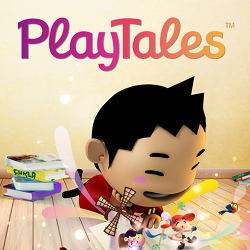 "In today's age of the author and the growing revolution redefining what books can be, PlayTales is the technological bridge between children's publishing and families."
New York, NY (PRWEB) February 06, 2012
PlayTales (http://www.myplaytales.com), the easiest place for parents to find interactive picture books for children aged 1 to 8+, today officially launched a dynamic bookstore app for iTunes and Android platforms. Formerly known as TouchyBooks, PlayTales uniquely delivers new and well-known stories—multinational, multilingual, multicultural and multiplatform—from children's authors and illustrators to families around the world. PlayTales is one of the few platforms that allows content owners to maintain full ownership of their intellectual property.
More than one million people have already downloaded the TouchyBooks Bookstore app, now called PlayTales. PlayTales' interactive books can be found in seven different languages, and the bookstore app is ranked in the top 30 apps in the US (#24), UK (#21), Ireland (#18), Germany (#27), France (#15), Spain (#8), and among the top 100 apps in more than 70 countries. PlayTales stories can be downloaded through the PlayTales Bookstore App, and individually across most mobile platforms, including iPhone, iPad and Android.
A number of publishers, brands, content owners, illustrators and authors are releasing their books on the PlayTales platform including the child rights organization, UNICEF Spain who will be launching their second book with PlayTales on February 7th. It features Lakers basketball star and UNICEF Ambassador Pau Gasol as the narrator for English, Spanish and Catalonian versions. Proceeds of the book will be donated to UNICEF Spain.
PlayTales is dedicated to fostering childrens' imaginations through interaction, from tactile and visual possibilities, diverse designs and animations to original music scores and gaming features built into each PlayTales book. Games include: Mazes, Connect the Dots, Simon Says, Coloring, Find the Difference, Word Search, Puzzles, Find the Hidden Image, Drawing, Pair Matching and Learn-to-Play Songs.
"Rather than searching book app by book app, with PlayTales you have them all the best children's books right there all together. No searching. It's one place, one app, one solution instead of trying to root them out from the sea of apps," said Enrique Tapias, CEO of PlayTales. "The PlayTales Bookstore App lets parents to easily find fun and educational interactive books--try them, buy them, download them, and rate them."
Working with PlayTales
PlayTales both creates original stories and partners with content owners transform their stories into interactive playable books. PlayTales joins together a focused team of artists, writers, educators and tech professionals to bring each project to life, who are each dedicated to producing wholesome and meaningful content for children.
"As we've grown from offering just interactive children's books to creating immersive story experiences with games and increasing functionality, the name TouchyBooks no longer best described the company," said Tapias. PlayTales is the best place for authors to partner in creating and publishing their books while keeping all of the IP rights to their stories and characters. And through the PlayTales platform, content owners have a robust multiplatform, multinational and multilingual store (PlayTales) from which to market and sell their stories.
About PlayTales
PlayTales is a wholly-owned subsidiary of Genera Interactive, an internationally based multi-platform mobile entertainment and utilities provider with offices in USA, UK, Spain, Romania, and China. Founded in 2010, PlayTales develops and distributes interactive playable storybooks for children within the world's leading children's bookstore app for Smartphones and Tablets. PlayTales is a multiplatform, multinational and multilingual service that targets leading platforms such as Apple, Android, Blackberry Playbook, Nook, Kindle Color, among others. To contact the PlayTales staff please send an email to info(at)playtales(dot)com or visit our website at http://www.myplaytales.com.
###