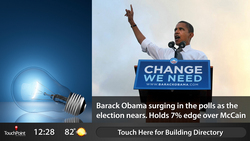 Minneapolis, MN (PRWEB) February 11, 2009
Screenfeed, a provider of daily content feeds for digital signage, today has launched its "News in Pictures" channels, which combine high-definition photographs with the top news stories of the day, each and every day.
The "News in Pictures" channels provide digital signage operators with a constant stream of fresh, visually stunning news content--without the bandwidth costs of video. Channels include US News, Sports, Entertainment, and Weather.
Screenfeed's channels provide entertaining content that is built specifically for digital signage. Headlines communicate stories in a few phrases; all photos are manually cropped to fill a screen or zone, and channels offer up to 30 minutes of new content each day to fill a variety of dwell times.
Screenfeed content can be delivered in any number of resolutions and aspect ratios. Clients can choose from a number of standard sizes or request a custom crop to fit within a zone.
Screenfeed content channels work with any signage software or hardware. If your software supports Flash, simply schedule a provided Flash file and content will begin "feeding your screen." Alternatively, feeds can be delivered as Media RSS news feeds or an FTP of JPEG images.
To aid in seamless use by end users, Screenfeed is working with several digital signage software companies to integrate Screenfeed channels directly into their software and is looking to forge more relationships with software partners.
Content channels are available for a monthly subscription fee based on the number of media players. As part of a strategy to support smaller networks and individual businesses integrating digital signs, subscriptions are offered to customers with one screen or thousands with no minimum.
Screenfeed is a member of the Digital Signage Association and has been providing content for kiosks and digital signage for over 10 years. In addition to the "News in Pictures" channels Screenfeed offers Scenery and Video channels. Screenfeed will be demonstrating and connecting with customers at the Digital Signage Expo - February 24 - 26, 2009 in booth C4. Visit http://www.feedyourscreen.com to learn more.
Contact:
Jeremy Gavin
Screenfeed
952-358-3699
###