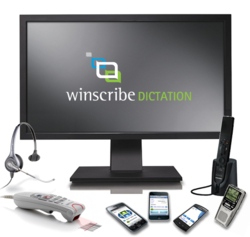 "We have developed a robust and technologically advanced solution that will help users get their work done in a more efficient and productive manner." - Greg Allen, Winscribe CTO
Auckland, NZ (PRWEB) October 06, 2011
Winscribe Dictation is a digital dictation workflow management software solution that empowers business professionals to take control of their dictation and transcription processes to improve staff productivity, process efficiency and client satisfaction. With over 15 years experience in providing voice productivity solutions to a variety of professional industries, this new release marks an evolution in digital dictation workflow technology that helps organizations do more with less, work faster and smarter.
Winscribe Dictation v4.1 has many new exciting features, taking it further ahead of competing offerings and allowing business professionals to maximize efficiencies in their dictation and transcription processes. Among the new features in v4.1 is a new calendar feature that calculates the actual turnaround of jobs based on staff work schedules. An updated search function gives users the ability for even quicker and more efficient job searches. Another added feature, built based on user feedback, is the ability to split large jobs into smaller jobs. Split dictation jobs can then be distributed to a team of typists for quicker completion. By using Winscribe's new advanced bookmark feature, authors and typists are able to insert bookmarks at different points of interest within the dictation and add notes to ease communication between authors and support staff. From an IT manager's point of view, Winscribe Dictation v4.1 provides improved control of organization workload and staff productivity levels through enhanced reporting tools via Microsoft SQL Server Report Builder.
Greg Allen, CTO of Winscribe, commented: "Winscribe continues to evolve to meet the needs of our clients. Winscribe Dictation v4.1 is no exception. This version was developed based on feedback we received from our clients and from consultation with our over 100 sales partners from around the world. As a result, we have developed a robust and technologically advanced solution that will help users get their work done in a more efficient and productive manner. The new release enables users to fully realize all the benefits of a true digital dictation workflow management system."
Adding to the many new features and benefits that come with Winscribe v4.1 is the support of speech recognition engine Dragon NaturallySpeaking 11, and popular office package Microsoft Office 2010. These integrations allow users to further improve their dictation and transcription processes, by enabling even greater workflow automation and efficiency.
While Winscribe's digital dictation workflow platform does not require proprietary hardware for use with their software, Winscribe Dictation is developed to be compatible with the latest dictation hardware devices from leading digital dictation hardware manufacturers – such as Olympus, Philips and Grundig. In addition, Winscribe offers mobile dictation applications for BlackBerry, iPhone, iPad, iPod Touch, Android smartphone and Android Tablet platforms.
Following its successful history, clients are able to obtain their Winscribe Dictation v4.1 software solution depending on their individual needs. Those who wish to host and manage the software themselves in their own data center, can do so by acquiring Winscribe via a traditional licensing model. Alternatively, clients can elect to subscribe to Winscribe OnDemand – a Software-as-a-Service (SaaS) offering that is designed for organizations that do not want to invest in an internal system. SaaS is the answer to many of the IT headaches associated with the traditional on-site software model and for organizations that lack dedicated IT departments or staff. With no software or servers to buy, install, maintain, or upgrade, the popularity of on-demand grows with IT organizations that are increasingly asked to do more with less.
For more information about Winscribe Dictation v4.1 and Winscribe's suite of digital dictation and business process management solutions, please visit http://www.winscribe.com. In addition, a video demonstration is available on the Winscribe YouTube channel.
Please visit http://www.youtube.com/user/WinscribeGlobal to access Winscribe's demonstrational and informational video catalog.
About Winscribe
As the world's leading provider of digital dictation software, Winscribe supports businesses all over the globe with their requirements for digital dictation, digital transcription, voice recognition, and workflow management. Based on years of experience in the workflow management field Winscribe has now extended its offering to Business Process Management solutions for the legal market.
Winscribe is the largest supplier of digital dictation technology in the world with installations in 25 countries and more than 350,000 users globally. Winscribe provides solutions for a number of industries including Legal, Law Enforcement, Healthcare, Transcription, Surveying, Insurance and Government sectors and has a widespread global reach with strong customer presence in North America, Europe, Australasia, and South Africa.
Offices located in the USA, UK, New Zealand, Australia, and Switzerland and a network of more than 100 sales partners provide a global knowledge base that enables customers to successfully implement and maintain their Winscribe solution.
###